Gardening Answers Knowledgebase
Knowledgebase record #133
---
Reviewed by: Brian Thompson
Review date: 2016-11-01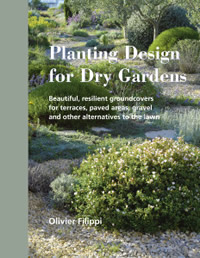 Planting Design for Dry Gardens is an excellent book but unfortunately is poorly titled. Author Olivier Filippi lives in the south of France and the original French title, Alternatives au gazon, or "alternatives to lawn" more accurately describes his work, a very detailed and practical study of the options for replacing resource demanding turf grass.
A translation of a different type, from the parameters of Filippi's classic Mediterranean climate to our more modified version, will take some work on the reader's part. I found the effort worthwhile, as it exposed me as a gardener to ideas not typically found in a Pacific Northwest oriented garden book.
For example, Filippi does not recommend using a drip irrigation system for a dry garden of groundcover plants. Instead he advocates hand watering, using temporary basins created around the new plantings, so that plants will more likely to survive without supplemental watering once established. Many other general gardening topics, from planting to attract beneficial insects to concerns about invasive plants, are addressed from a refreshingly distinctive, continental European perspective.
Published in the November 2016 Leaflet Volume 3, Issue 11.
Keywords:
Reviews
---
Need an answer to your gardening question? Ask us directly!