Gardening Answers Knowledgebase
Knowledgebase record #20
---
Reviewed by: Rebecca Alexander
Review date: 2013-11-16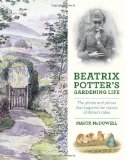 Part biography, part garden photo essay, and part ventriloquist's act, Marta McDowell's Beatrix Potter's Gardening Life (Timber Press, 2013) provides a window into Potter's world. If you have read her children's books, you will have a lasting impression of the charming adventures of rabbits, hedgehogs, kittens, and ducks but you may not think of Beatrix Potter as a botanical illustrator. I was surprised to discover that the highly accomplished sketch of foxglove and periwinkle on page 27 was made when she was only ten. The best feature of this book is the gathering together of selected drawings and watercolors of plants, fungi, and landscapes. Potter's natural history illustrations (particularly of mushrooms) are featured in Ambleside's Armitt museum.
Potter was also a certifiable plant addict, and was not averse to gathering cuttings and seeds in gardens not her own. Royalties from her publications enabled her to acquire property and land, so she ended up with several gardens in England's Lake District. The weakest part of the book is McDowell's attempt to channel Beatrix (as she takes the liberty of calling her) by paraphrasing from her journals and letters to feature aspects of the gardens through the seasons. The accompanying photos are glorious (I am captivated by Hill Top garden's green-painted wrought-iron gate rimed with frost), but it would have been better simply to quote Potter directly.
Keywords:
Reviews
---
Need an answer to your gardening question? Ask us directly!