Gardening Answers Knowledgebase
Knowledgebase record #203
---
Reviewed by: Rebecca Alexander
Review date: 2016-11-18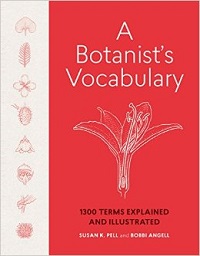 In my work as a horticulture reference librarian, I am often presented with a scrap of leaf or flower or twig, and asked to identify it. Although I have a pretty good visual memory for plants and their names, I have no formal training in botany. A Botanist's Vocabulary by Susan Pell and Bobbi Angell (Timber Press, 2016) is a useful tool not just for botanists but for all who work with plants—home gardeners and professionals alike. The book is arranged in straight alphabetical dictionary order, which makes it easy to look up a term you may have come across in the course of learning about a plant. It complements a book like The Cambridge Illustrated Glossary of Botanical Terms (Michael Hickey and Clive King, 2000), which is organized by the parts of a plant—the roots, seeds, flowers, leaves, fruits, and so forth. The pen and ink illustrations by Bobbi Angell are very clear, and red arrows or markings indicate the part of the plant referred to by a term, when such clarification is needed. The definitions are also concise, and include synonyms or in some cases antonyms, as relevant. I found familiar as well as unfamiliar terms, and as a word-nerd this is the kind of reference book that is a great joy to browse. The only desired feature the book lacks is consistent identification of the plant or plant family shown in each illustration. Some are named, but many are not. It would be helpful, once one has looked up the word, to have at least one example of which genus or family exhibits the characteristic being described and defined.
Keywords:
Botanical nomenclature
---
Need an answer to your gardening question? Ask us directly!