Gardening Answers Knowledgebase
Knowledgebase record #236
---
Reviewed by: Brian Thompson
Review date: 2014-04-01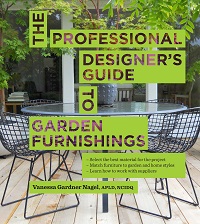 "The Professional Designer's Guide to Garden Furnishings" by Portland Landscape Designer Vanessa Gardner Nagel identifies its primary audience in the title, but there's much here for the discriminating homeowner, too. Especially valuable are the detailed, chapter-length analyses of the many materials that can be used in furnishings, including wood, metal, textiles, and even wicker, glass, or stone. Each chapter includes the industry standards for high quality, finishing options, best maintenance practices, and the sustainability of each material.
The author is at her best when—after carefully presenting a concept—she explains how she will bend the rules. In a section from "Furnishings" on Scale and Proportion, she states, "The old concept of small things in a small space simply isn't true. A couple of large objects in a small space can work splendidly…" and she goes on to explain why this works.
Excerpted from the Spring 2014 Arboretum Bulletin.
Keywords:
Reviews
,
Reviews
---
Need an answer to your gardening question? Ask us directly!