Gardening Answers Knowledgebase
Knowledgebase record #244
---
Reviewed by: Brian Thompson
Review date: 2014-10-01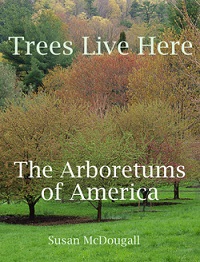 There are very few books specifically dedicated to arboreta, and it is always exciting when a new one is published, but even more exciting when the author lives in Seattle! In "Trees Live Here," Susan McDougall has photographed and written about 33 arboreta throughout the United States, but her "home" arboretum is our very own Washington Park Arboretum. Of course, I turned to that chapter first.
McDougall's camera leads the tour. While the photos showcase the color of Azalea Way in spring and floral highlights from the Witt Winter Garden, the author also favors some of the less well-known collections. The Pinetum and conifers throughout the Arboretum are highlighted, as are the Lindens (Tilia) at the north end. I need to spend more time exploring both of these areas. Elsewhere the subjects may be familiar, but the focus is often on unexpected features such as leaf buds swelling in spring, or close-ups of peeling bark.
The photographer's eye is clear in McDougall's description of the Hybrid Rhododendron Garden. "It is not necessarily a photographer's dream, for though this collection is uniquely-colored and filled with leaves of varying brightness and size, the shades and angles of flowers and stems pose a challenge for the camera."
Tearing myself away from "our" chapter, I found other Pacific Northwest arboreta presented, including the Hoyt Arboretum in Portland, the Peavy Arboretum in Corvallis, and the University of Idaho Arboretum in Moscow. Like in all the chapters, the photographs "…provide a sense of the plants in each arboretum's collections, while the text serves to describe, augment, and inform."
The introductory chapters answer such basic questions as "What is an arboretum?" and "What is their history?" beginning by quoting the Oxford English Dictionary definition, which is simply 'a place for trees.' Her research found the first use of the term to be by John Claudius Loudon in his 1838 encyclopedia "Arboretum et Fruticetum Britannicum", which he translated in his sub-title as "The Trees and Shrubs of Britain." Loudon not only wrote about his interest in trees, he acted upon it, establishing an arboretum in Derby, England. McDougall quotes from his writings to the Town Council, "The Derby Arboretum would not only serve as a source of recreation and instruction to the inhabitants of Derby and its neighborhood, but as a standard of nomenclature…the collection of trees and shrubs being one of the most extensive ever planted, and the whole being named with a degree of correctness scarcely to be found in any other garden." This standard of excellence for an arboretum is still very valid today!
These chapters also tackle more challenging topics such as "Why are they still important?" This is partly answered in the criteria for those arboreta selected for this book, which require an accessioned collection with records of provenance, a staff that is committed to public education, and programs dedicated to outreach, conservation, and research.
As an interesting aside, McDougall did most of her research by train, traveling with her husband, David Biek, with whom she collaborated on a 2007 book on the flora of Mt. Adams. In the spring of 2011 they took Amtrak to all four corners and the middle of the country, visiting 28 arboreta and taking 15,000 photos, timing their arrivals in each location with the coming of spring. Quite an adventure!
Excerpted from the Fall 2014 Arboretum Bulletin.
Keywords:
Arboreta
,
Reviews
---
Need an answer to your gardening question? Ask us directly!