Gardening Answers Knowledgebase
Knowledgebase record #25
---
Reviewed by: Brian Thompson
Review date: 2013-01-01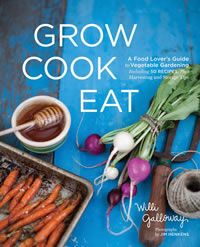 Many vegetable gardening books include recipes but few are as well integrated as in "Grow Cook Eat" --for Willi Galloway cooking follows sowing, growing, and harvesting as the next logical step (presumably followed by eating). In addition to the formal recipes (none are particularly complex), there are oodles of simple ideas for using the vegetable (or herbs, or even a few fruits) at hand in creative and delicious ways. Jim Henkens's photos expertly capture growing plants, the fresh harvest, and the serving plate, encouraging you to give it a try. The general culture section is brief but sufficient--the goal here is to get growing and get eating--yum!
Excerpted from the Winter 2013 Arboretum Bulletin.
Keywords:
Reviews
---
Need an answer to your gardening question? Ask us directly!