Gardening Answers Knowledgebase
Knowledgebase record #250
---
Reviewed by: Brian Thompson
Review date: 2015-10-01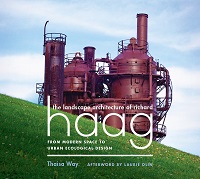 Richard Haag's life story, as told in "The Landscape Architecture of Richard Haag", a new biography by Thaïsa Way, has many twists and turns before he arrived in the Pacific Northwest. Growing up on a family nursery and farm near Louisville, Kentucky, he studied and was mentored on both coasts and in Midwest, but a two year visit to Japan, as one of the first recipients of a Fulbright scholarship to visit that country, he later claimed "changed my whole life." Here he learned "conservation and economy…[and] working with what you have."
He came to Seattle in 1958 to develop what became the Landscape Architecture Department at the University of Washington. One of the core courses, "Theory and Perception", Haag taught from 1959 to 1996, "using it to articulate his vision of landscape architecture as a melding of the humanities, the arts, and the sciences, a means of stewardship of the earth and its cultures."
He continued his private practice as well, and it is from this that he has his greatest fame today, primarily through two projects. The first, Gas Works Park, is the result of a nearly 20-year public debate. Haag's ability as a designer is almost overshadowed by his ability as a political operator. His techniques for transforming a highly toxic site into a safe place for the public, all with the minimum of soil removal, is also a remarkable. He certainly mastered "working with what you have."
The story of his work at the Bloedel Reserve is not quite as unqualified a success. Some of his designs, most notably the Garden of Planes, were later removed. Other plans were altered despite the notable accolades they received. A thread throughout this book is the challenges Haag faced to be honored in his profession, and—since he is now in his 90s—to see his projects live on as he intended.
Excerpted from the Fall 2015 Arboretum Bulletin.
Keywords:
Landscape architecture
,
Reviews
---
Need an answer to your gardening question? Ask us directly!