Gardening Answers Knowledgebase
Knowledgebase record #254
---
Reviewed by: Brian Thompson
Review date: 2015-10-01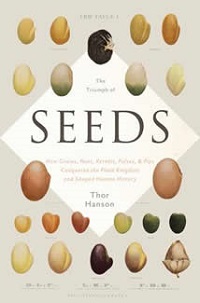 Thor Hanson's son Noah became fascinated with seeds at an early age. After reading "The Triumph of Seeds", this is not surprising. Having a father who could tell such compelling stories could make the commonplace imprint on almost any child.
Adults will find Hanson's stories equally engaging. He is an excellent researcher, interweaving the importance of seeds in botany, ecology, and natural history with their significance in both human history and what you are serving for dinner. Why are the seeds of chili peppers hot? What's in it for the coffee bean to be full of caffeine?
These questions have chapter-long answers that introduce a wealth of characters, ranging from Christopher Columbus to Johann Sebastian Bach to a barista in Ballard. Through both history and modern culture the relationships between humans and plants (and animals) are very deep, on-going, and ever-developing.
As his son ages, Hanson involves him in his experiments, but the end results are often about more than just the research. Describing the flight of the seed of a Javan cucumber, with its six inch wing, he recalls, "We watched that seed fly for the simple joy of seeing something beautiful doing what it is meant to do. Standing there together, heads tilted skyward, we laughed and laughed until it disappeared from view—a papery wisp at the edge of visions, still rising."
Excerpted from the Fall 2015 Arboretum Bulletin.
Keywords:
Reviews
---
Need an answer to your gardening question? Ask us directly!