Gardening Answers Knowledgebase
Knowledgebase record #255
---
Reviewed by: Brian Thompson
Review date: 2015-10-01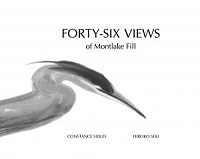 The three books by Constance Sidles about her experiences with birding in the Montlake Fill (also known as the Union Bay Natural Area) have been amongst the most circulated titles from the Miller Library. All are filled with her careful observations of the life in this urban wetland and her philosophical observations to broader life. In "Forty-Six Views of Montlake Fill" she takes a different linguistic approach: poetry.
The poems are distilled observations of this ecosystem throughout the seasons. Hiroko Seki, an accomplished artist of sumi-e, the Japanese style of ink wash or literati painting, has created paintings to accompany each poem, making for a simple but profound combination.
"In the pond,
A female Cinnamon Teal paddles with her babies,
Mother ship followed by seven little tugboats,
Fueled with green algae."
Excerpted from the Fall 2015 Arboretum Bulletin.
Keywords:
Birds
,
Reviews
---
Need an answer to your gardening question? Ask us directly!