Gardening Answers Knowledgebase
Knowledgebase record #257
---
Reviewed by: Brian Thompson
Review date: 2016-01-01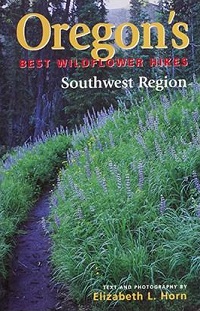 The author of three more conventional field guides to wildflowers, Elizabeth L. Horn makes "Oregon's Best Wildflower Hikes: Southwest Region" about hikes to see wildflowers. Throughout she uses only common names, but this helps move you along the trail.
"Both Table Rocks are known for their colorful displays of springtime wildflowers. We hiked the area in both early April and early May and found the wildflowers breathtaking." Lest this sound a little too idyllic, she warns that the trail rating is "strenuous" and that "poison oak and ticks are plentiful, so stay on the trail."
While this is not a field guide, many prominent species are highlighted with close-up photos (all by the author) with interesting facts that make each distinctive. Detailed directions and GPS coordinates will help you find the trailhead while close-up maps will help along the trail.
Excerpted from the Winter 2016 Arboretum Bulletin.
Keywords:
Reviews
---
Need an answer to your gardening question? Ask us directly!