Gardening Answers Knowledgebase
Knowledgebase record #293
---
Street Farm by Michael Ableman, 2016
Reviewed by: Brian Thompson
Review date: 2017-04-01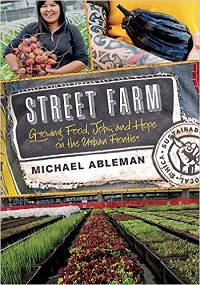 "Street Farm" is not a gardening book, but I'm reviewing it because it has a powerful message of the benefits of gardening, or – more accurately – urban farming, especially for those who do not have much else to bring hope and well-being to their lives. Author Michael Ableman is the co-founder of Sole Food Street Farms, a charitable organization that includes four farms on abandoned lots in downtown Vancouver, B. C. This book is the story of that organization and the people it has hired to become the urban farmers.
The neighborhoods around these farms are not tourist attractions. The author points out that "…while Vancouver's prosperity is celebrated, its concentration of poverty and raw desperation endures in the midst of the polished and the preened."
There are losses on these farms, both of the produce and of the humans who tend the crops, but overall this is a book of hope. Ableman is very clear that this endeavor is not a panacea for the challenges of poverty, mental health diseases, or addictions. He also recognizes his is a position of privilege by always having "…had a place to live and food to eat, and the color of my skin is not black or brown."
Besides the human stories, all gardeners will relate to the challenges of growing plants in less than ideal circumstances, including outsmarting pests, in this case a sophisticated rat population that only chooses the best vegetables. No less interesting is the harvesting and marketing of crops to the more than 30 restaurants and five farmers markets that Sole Food supplies, plus its CSA (Community Supported Agriculture) shares and donations of over $20,000/year to community kitchens.
Excerpted from the Spring 2017 Arboretum Bulletin.
Keywords:
Reviews
---
Need an answer to your gardening question? Ask us directly!