Gardening Answers Knowledgebase
Knowledgebase record #37
---
Reviewed by: Brian Thompson
Review date: 2013-04-01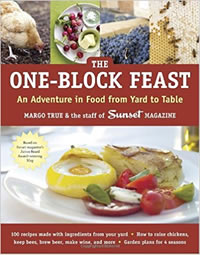 From a publisher a bit out of the region but very familiar to us all is The One-Block Feast by Margo True and the staff of Sunset Magazine. Essentially this is a scrapbook of the an on-going experiment to grow, harvest, prepare, and cook a full menu, all from very local sources--the Menlo Park, California campus of this long-time fount of wisdom for gardeners throughout the west.
While one must make modifications for the Pacific Northwest (a calendar of regionally adjusted planting and harvesting dates in the appendix will help), you can't help but come away from reading this book full of ideas. The staff formed teams by food type, and weren't afraid to tackle almost anything from honey to cheese, or beer to olive oil. I thought the stories of Team Salt and Team Escargot were the most intriguing.
Excerpted from the Spring 2013 Arboretum Bulletin.
Keywords:
Reviews
---
Need an answer to your gardening question? Ask us directly!