Gardening Answers Knowledgebase
Knowledgebase record #38
---
Reviewed by: Brian Thompson
Review date: 2013-04-01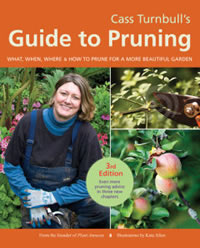 Cass Turnbull needs no introduction to our readers and a new book by her is a cause for celebration. Her "Guide to Pruning" is now available in its 3rd edition with three added chapters, including a much needed essay on Taming the Native-Plant Garden. She also addressed an impressive list of new plants not considered in the earlier editions, including "whackables" such as Lavatera and Perovskia. Oh, how I wish I had read about the dangers of whacking too soon--before making my mid-February cutbacks in my own garden.
Excerpted from the Spring 2013 Arboretum Bulletin.
Keywords:
Pruning
,
Reviews
---
Need an answer to your gardening question? Ask us directly!