Gardening Answers Knowledgebase
Knowledgebase record #4
---
Reviewed by: Brian Thompson
Review date: 2016-02-26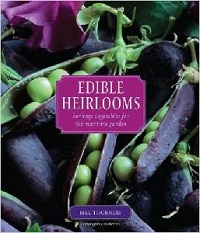 Edible Heirlooms is a great little book! Little only in dimensions and number of pages, as the author carefully defines his purpose and limits his scope, but within those parameters shows you how to grow an outstanding vegetable garden in the maritime Pacific Northwest.
Most important, he sees this endeavor as part of a larger picture. "The challenge for me is to somehow integrate my vegetable-growing practices into a diverse ecosystem and, if possible, enhance biodiversity." The key for this is to use heirloom varieties that can be regrown from collected seeds. Besides the mouth-watering descriptions, you will also get an excellent history lesson.
Keywords:
---
Need an answer to your gardening question? Ask us directly!