Gardening Answers Knowledgebase
Knowledgebase record #43
---
Reviewed by: Brian Thompson
Review date: 2013-07-01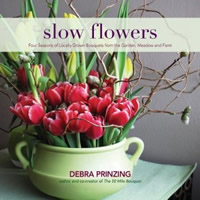 "Slow Flowers" is something of a sequel to "The 50 Mile Bouquet," Debra Prinzing's previous book (co-created with photographer David Perry) about local and sustainable cut flower vendors. In this book, she uses the produce (flowers, leaves, seedpods, cones, and other plant material) from those vendors, plus cuttings from her own yard and those of friends to create a calendar full of arrangements, one for each week of the year.
The process for creating each week's offering is carefully recorded, both in narrative and with an ingredient list complete with sources and a count of each stem. I found the detailed descriptions of the vases, some quite historical, particularly interesting. Tips on design, finding materials, assembling your bouquet--without the use of environmentally unfriendly florist foam--and preserving it when done are sprinkled throughout the book, and in a helpful reference section at the end.
What I like best about this book is the author's teacher-like approach to everything. No detail is missed, but each is gently mixed with encouragement, practicality, and a sense of fun that makes you want to participate, too.
Excerpted from the Summer 2013 Arboretum Bulletin.
Keywords:
Reviews
---
Need an answer to your gardening question? Ask us directly!