Gardening Answers Knowledgebase
Knowledgebase record #44
---
Reviewed by: Brian Thompson
Review date: 2013-07-01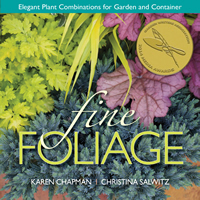 Two Seattle area garden designers discovered they have a shared passion for leaves. The result of this synergy is "Fine Foliage," a rare garden design book in which almost no flowers are allowed. Karen Chapman and Christina Salwitz fill their book with a gallery of plant combinations highlighting leaf color, patterns, size, and shapes in both intimate and large-scale settings.
For each example there is a memorable name (like "Down the Rabbit Hole" or "Deer Be Damned!"), a summary of combined cultural needs, and a "Meet the Players" highlight of the selected plants. Most useful is the "Why This Works" paragraph that highlights the design principles behind each combination and stressing the importance of foliage first in any planting plan. Readers of "The Bulletin" will be interested to see that three of the designs for shady locations were created by Rizaniño "Riz" Reyes, a gardener on the University of Washington Botanic Gardens staff.
Excerpted from the Summer 2013 Arboretum Bulletin.
Keywords:
Reviews
---
Need an answer to your gardening question? Ask us directly!