Gardening Answers Knowledgebase
Knowledgebase record #57
---
Reviewed by: Brian Thompson
Review date: 2012-10-01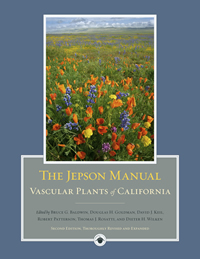 Many of the over 7,000 vascular plant species of California described in The Jepson Manual can also be found in the Pacific Northwest.
The name perhaps needs clarification. Willis Linn Jepson was an early 20th century botanist who published several books on California flora, including the first that was both comprehensive and statewide for vascular plants ("A Manual of the Flowering Plants of California"--1925). The 1993 first edition of "The Jepson Manual" honored his memory, and this new edition continues that honor while incorporating new discoveries and the many changes in botanical systematics of the last twenty years.
Excerpted from the Fall 2012 Arboretum Bulletin.
Keywords:
Reviews
---
Need an answer to your gardening question? Ask us directly!