Gardening Answers Knowledgebase
Knowledgebase record #6
---
Reviewed by: Jessica Anderson
Review date: 2016-02-13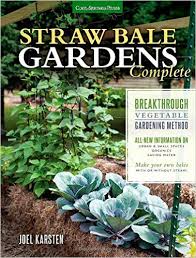 I was surprised to learn that there is a new way to grow vegetables. Inside straw bales. Yes, that is what I said, inside straw. This new book by Joel Karsten, Straw Bale Gardens Complete (Cool Springs Press, 2015), explains a method of growing and harvesting crops which is useful for increasing productivity while reducing labor. The chapters thoroughly cover planning your straw bale garden, and making straw bale greenhouses. There are extensive pages of garden layouts, including single, two, and three-bale gardens with tomato cages, trellises, and suggested plants. This approach to container gardening is using the straw bale itself, held together with two or three strings, with the outside crust of the bale serving as the container. The straw inside the bale will decompose, making it "conditioned" and ready to plant. The author gives step by step instructions for conditioning to create a warm, moist and nutrient rich rooting environment for seedlings. The author points out that straw bale gardens are ideal if you can't do heavy lifting, can't bend over, have poor soil, or limited space.
One thing to keep in mind is the difference between hay and straw, which often are confused. Straw comes from one of the cereal small-grain plants. Most common are oats, wheat, barley, rice, flax and rye. Hay is green, more coarse and wiry than straw. Hay can be baled alfalfa or any dozens of different grasses. Hay is fed to livestock as fodder. It contains all the seed heads inside the bale. But hay is not desirable for bale gardens. The book explains how to find and maintain the best straw for growing plants. If you are looking for a source for straw in the Seattle area, I've been able to supply my chickens with straw from The Grange in the University District. I also recommend using organic straw for vegetable gardening because you will want straw that has not been treated with herbicides or pesticides. Organic bales are usually sold at about the same prices as conventional ones.
Keywords:
---
Need an answer to your gardening question? Ask us directly!