Gardening Answers Knowledgebase
Knowledgebase record #71
---
Reviewed by: Brian Thompson
Review date: 2012-10-01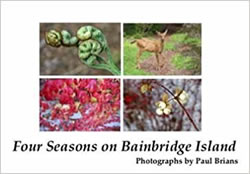 Four Seasons on Bainbridge Island is a photo essay by Paul Brians celebrating the flora of the island, some from his own garden, and accented with a few shots of people, animals, and landscapes. Highly recommended for residents of Bainbridge, this book also captures the essence of semi-rural, island living anywhere around Puget Sound.
Excerpted from the Fall 2012 Arboretum Bulletin.
Keywords:
Reviews
---
Need an answer to your gardening question? Ask us directly!