Gardening Answers Knowledgebase
Knowledgebase record #81
---
Reviewed by: Brian Thompson
Review date: 2012-10-01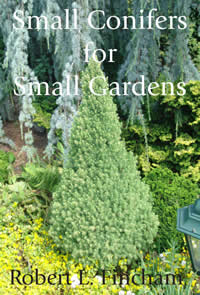 A local garden and nursery that's not well known is Coenosium Gardens in Eatonville. Owner Robert Fincham has traveled widely in his quest for dwarf conifers and the book Small Conifers for Small Gardens catalogs the many fine dwarf firs, spruce, pines, hemlocks, and assorted other species he has collected and grown. If you have considered adding conifers that won't outgrow your garden, this introduction to the merits of over two hundred choices, along with anecdotes about each, is a must read.
Excerpted from the Fall 2012 Arboretum Bulletin.
Keywords:
Dwarf conifers and shrubs
---
Need an answer to your gardening question? Ask us directly!