Gardening Answers Knowledgebase
Knowledgebase record #83
---
Reviewed by: Brian Thompson
Review date: 2012-10-01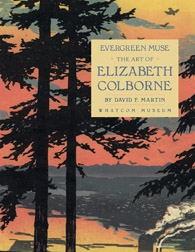 A strong woman from the early 20th century was Elizabeth Colborne (1885-1948), who grew up in Bellingham. She was an artist that worked in several media with various subjects, but is best remembered for her color woodcuts of northwest forest scenes, with detailed and accurate renditions of our native trees and other plants. Evergreen Muse by David Martin is a catalog of her works displayed in an exhibit at the Whatcom Museum in Bellingham during the summer of 2011.
Excerpted from the Fall 2012 Arboretum Bulletin.
Keywords:
Forests and forestry
,
Native plants--Washington
---
Need an answer to your gardening question? Ask us directly!