Elisabeth C. Miller Library
Gardening Answers Knowledgebase
Knowledgebase record #109
---
Reviewed by: Brian Thompson
Review date: 2011-10-01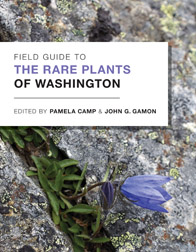 Most field botany guides help with identifying the most common trees, shrubs, and wildflowers. Field Guide to the Rare Plants of Washington takes a very different approach by choosing as its subjects over 300 of the rarest plants, ferns, and lichens in the state.
Why do this? Editors Pamela Camp and John G. Gamon, and the many contributors, anticipate that by helping both professional and amateur botanists in recognizing and identifying rare plants, this will promote conservation of these plants. The hope is also to engage more "...nature enthusiasts, opening a window into the beauty and diversity of Washington's rare flora."
That said, this book takes a solid base of botanical knowledge to appreciate. Selections are arranged alphabetically by genus within four broad plant types (lichens, ferns, dicots, and monocots). This means you must identify an unknown plant to the genus level before you can make use of the detailed plant and habitat descriptions to determine if you've found something rare. Most entries have line drawings and both close-up and site photographs, but these are for fine-tuning identification and not for the beginner.
Besides its value to the keen botanists, this book makes an important contribution to keeping pace with changes in taxonomy and nomenclature, and in linking different resources for this information. For example, each entry includes the name (if different) used in the standard reference Flora of the Pacific Northwest (Hitchcock and Cronquist, 1973). It also preserves in a book format much information that was only available in "...earlier loose-leaf and online treatments of many the species included..."
Excerpted from the Fall 2011 Arboretum Bulletin.
Keywords:
Native plants--Washington
---
Need an answer to your gardening question? Ask us directly!