Elisabeth C. Miller Library
Gardening Answers Knowledgebase
Knowledgebase record #11
---
Reviewed by: Brian Thompson
Review date: 2014-03-12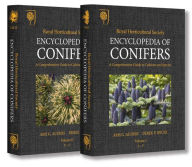 The moment I opened this massive, two-volume set, I was immediately engaged. Page after page of high quality photographs show the seemingly endless variety of cultivated forms of conifers--it's mesmerizing.
"Encyclopedia of Conifers" illustrates nearly 5,000 different cultivars, along with the species they are derived from--often with multiple photos from different times of year, or at different ages, or in various horticultural presentations. The variety of cones alone could fill its own book. While these trees are popularly known as evergreens, the rich variety of blues, silvers, golds, and browns along with the rich reds and purples of cones belies that name.
While the photographs are stunning, this is not just a picture book. The authors have notable credentials: Aris Auders maintains one of Europe's largest collections of conifers cultivars in Latvia, while Derek Spicer is the chairman of the British Conifer Society. Their goal was to create a reference work that is both comprehensive in its listing of cultivars and well-illustrated, a combination lacking in earlier publications on this subject.
The result will be the standard for years to come. While the photographs would stand on their own, the text provides description of each species in the wild, including range, elevation, size, notable characteristics, a description of the cones and hardiness zone (using USDA standards). For each cultivar that follows there is a description, origin if known, synonyms, misspellings, and citations to the name in older books, nursery catalogs, websites, and arboretum holdings. This piece too, could stand on its own.

Keywords:
---
Need an answer to your gardening question? Ask us directly!