Elisabeth C. Miller Library
Gardening Answers Knowledgebase
Knowledgebase record #118
---
Reviewed by: Brian Thompson
Review date: 2015-07-01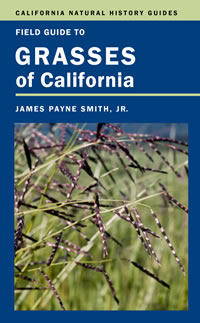 "Field Guide to Grasses of California" is an excellent survey of the most common of the 603 taxa, both native and naturalized, in the state. James P. Smith is a professor emeritus of Humboldt State University and his teaching skills are evident throughout. While many species are not found in Washington (only 337 taxa), there is overlap especially with northern California. If you study grasses, this book is well worth reading for its methodology and for a confession (p. 123): "I do not want to discourage you, but you will not be able to identify every grass that you run through the key in this book…" The absolution that follows will lighten the heart of any student botanist.
Published in the July 2015 Leaflet for Scholars Volume 2, Issue 7.
Keywords:
Reviews
---
Need an answer to your gardening question? Ask us directly!