Elisabeth C. Miller Library
Gardening Answers Knowledgebase
Knowledgebase record #123
---
Reviewed by: Brian Thompson
Review date: 2016-03-01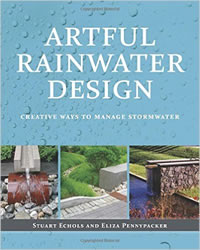 Stuart Echols and Eliza Pennypacker are on the faculty of the Department of Landscape Architecture at Penn State University. They have combined their academic interests in stormwater management and sustainable landscapes to write "Artful Rainwater Design".
Much of the tone of the book is captured in this quotation about changing terminology: "Stormwater—a waste product and common enemy blamed for property damage through flooding and for surface water and aquatic system damage through pollutant conveyance—has morphed into rainwater, a valued natural resource beneficial to our water cycle." Techniques, design principles, dealing with public relations, and many case studies—including several in the Pacific Northwest—make this an important book for anyone involved with any aspect of water management in urban settings.
Published in the March 2016 Leaflet for Scholars Volume 3, Issue 3.
Keywords:
Reviews
---
Need an answer to your gardening question? Ask us directly!