Elisabeth C. Miller Library
Gardening Answers Knowledgebase
Knowledgebase record #125
---
Reviewed by: Brian Thompson
Review date: 2016-05-01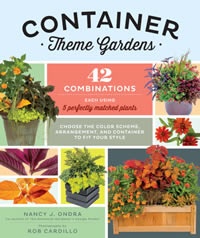 It's time to plan and plant your summer container gardens. But what plants will you select? "Container Theme Gardens", a new book in the Miller Library, will help you choose, with 42 different designs that will meet almost every need: sun or shade, flowers or foliage, ornamentals in your favorite color or a mini-kitchen garden that will fit on your balcony, deck, or windowsill.
Salad greens and herbs are naturals for this treatment; more unusual are plants grown for their berries or for making tea. Other selections are designed to attract: hummingbirds, butterflies, even your kids. Best of all, this is only the newest book in our excellent collection on containers that will help you plant a garden no matter how limited your space or time!
Keywords:
Reviews
,
Container gardening
---
Need an answer to your gardening question? Ask us directly!