Elisabeth C. Miller Library
Gardening Answers Knowledgebase
Knowledgebase record #167
---
Reviewed by: Rebecca Alexander
Review date: 2012-06-13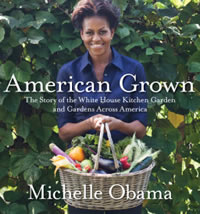 First Lady Michelle Obama's new book, American Grown: The Story of the White House Kitchen Garden and Gardens Across America (Crown Publishers, 2012) has much to say about gardening as a learning process. A novice gardener, she doesn't hesitate to admit that not all of the Kitchen Garden efforts succeeded on the first try: there were raised berms that succumbed to foot traffic and were replaced with untreated wooden boxes, troubles with cutworms, and trials and tribulations with pumpkins. But her motivation to create a food garden on the South Lawn with the participation of numerous horticulturists, chefs, and schoolchildren, has resulted in a beautiful, productive example for every aspiring urban farmer (even someone without a staff of dozens or a large growing space!).
For readers who want to cultivate a closer relationship to the source of the food we eat (either by growing our own or by supporting small farms), this book is a good starting point. The book, which opens with a brief history of gardens at the White House, is arranged by season, and includes plans, descriptions of techniques and hands-on growing experiences, and recipes. Various experts on the garden staff contribute parts of the text. Seattle makes two appearances in the section on "How Our Gardens Grow Stronger Communities," with a page on Picardo Farm P-Patch, and a historic photo of Pike Place Market. The book ends with a resource list and bibliography.
If you are curious about the source of initial hesitation/opposition to the first White House beehive ever, here's a hint: the beehive is sited not far from the basketball court!
Keywords:
Urban agriculture
,
Reviews
---
Need an answer to your gardening question? Ask us directly!