Elisabeth C. Miller Library
Gardening Answers Knowledgebase
Knowledgebase record #215
---
Reviewed by: Brian Thompson
Review date: 2013-01-01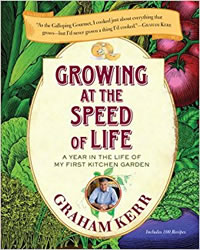 Graham Kerr is an (now local--Mt. Vernon) author who easily includes recipes amongst his recommendations for a kitchen garden, but that's not surprising as he is much better known as a chef (remember the Galloping Gourmet) than a gardener. He has embraced raising his own, healthful food as eagerly as any of his past pursuits. Growing at the Speed of Life is filled with the same enthusiasm--Kerr hasn't lost any of his wit or knack of turning a phrase that made him such a popular television personality in the early 1970s.
Excerpted from the Winter 2013 Arboretum Bulletin.
Keywords:
Edible landscaping
---
Need an answer to your gardening question? Ask us directly!