Elisabeth C. Miller Library
Gardening Answers Knowledgebase
Knowledgebase record #27
---
Reviewed by: Brian Thompson
Review date: 2013-01-01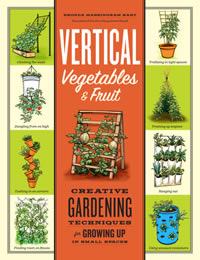 Here is another approach to dealing with limited space: grow up. Vertical Vegetables and Fruit is one of the very few books focused on this technique of food-growing. Some of the featured vegetables and fruits are naturals (beans or kiwi), but many are not. And while the thought of a high-flying watermelon may take a bit of getting used to, the author devotes several pages to slings and other support devices to make this possible. There are many unconventional ideas here to try, including hanging bags and living walls, along with some more familiar espaliers of fruit trees and strawberry pots. The emphasis is on innovation and experimentation--and having fun with your veggies (and fruit)!
Excerpted from the Winter 2013 Arboretum Bulletin.
Keywords:
Reviews
---
Need an answer to your gardening question? Ask us directly!