Elisabeth C. Miller Library
Gardening Answers Knowledgebase
Knowledgebase record #282
---
Reviewed by: Brian Thompson
Review date: 2017-01-01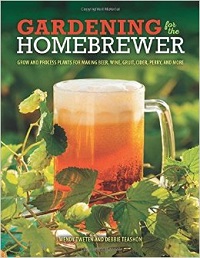 A photograph of a frosty mug of golden ale, surrounded by hop vines and fruit, graces the cover of "Gardening for the Homebrewer." I was immediately intrigued, especially when I learned that authors Wendy Tweten and Debbie Teashon live on the Kitsap Peninsula.
I expected this book to highlight garden-grown additives for your home brewed beer, but it does much more that, advocating growing your own hops, and even your own barley – all in western Washington! According to the enthusiastic authors, there's also no reason not to grow your own pumpkins for Pumpkin Ale or experiment with varying mixtures of herbs, other grains, or perhaps hot peppers or spruce needles to make a brew that is distinctly your own.
Once you master these techniques, move on to making your own wine (using grapes or other fruit), cider, or perry (pear based cider). Each chapter helps with the plant culture, preferred varieties, terminology, the techniques of harvest, curing, and fermentation, and necessary or recommended additives and equipment. A final chapter explores liqueurs with the same enthusiasm found throughout the book: "…chances are if you can grow and eat it, you can turn it into a liqueur." What are you waiting for?
Excerpted from the Winter 2017 Arboretum Buletin.
Keywords:
Reviews
---
Need an answer to your gardening question? Ask us directly!