Elisabeth C. Miller Library
Gardening Answers Knowledgebase
Knowledgebase record #285
---
Reviewed by: Brian Thompson
Review date: 2017-01-01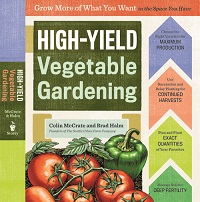 I reviewed the first book by Colin McCrate and Brad Halm, "Food Grown Right, in Your Backyard," in the Winter 2013 issue of the "Bulletin". This reflected their efforts as the founders of The Seattle Urban Farm Company to encourage people to grow food, no matter what their limitations of space or experience.
Their second book, "High-Yield Vegetable Gardening," addresses a more experienced audience – gardeners who want the maximum yield from their space, no matter how large or small. Their ideas would work throughout most of North America, although here and there it reminds you of its Seattle roots, to the benefit of local readers.
They have selected three real examples (with pseudonyms for the owners) of gardens of varying sizes, one each in an urban, a suburban, and a rural setting, and use these as examples throughout – an effective approach. You'll want to keep this book handy and use it for notes; there are many spaces for you to fill in blanks for your specific climate and harvest needs.
Excerpted from the Winter 2017 Arboretum Bulletin.
Keywords:
Reviews
---
Need an answer to your gardening question? Ask us directly!