Elisabeth C. Miller Library
Gardening Answers Knowledgebase
Knowledgebase record #286
---
Reviewed by: Brian Thompson
Review date: 2017-01-01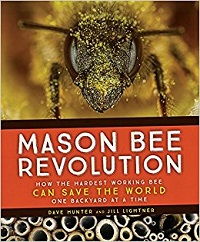 Most of the bee books in the Miller Library collection are either guides to keeping honey bees, or field guides to native bees. A new book by Pacific Northwest authors has a different focus – living with bees as an active, vibrant part of your garden.
While this may include European honey bees, the focus is on less well-known native bees. Most of these are solitary bees that do not form hives or make honey, but they are outstanding pollinators. "Mason Bee Revolution" by Dave Hunter and Jill Lightner (both from the Seattle area) emphasizes the encouragement and care of Mason bees for spring pollination, followed by leafcutter bees for the summer.
To these authors, the bees are almost pets. While the care requirements are minimal compared to many other garden tasks, they still are important, and can be a fun and useful way to share bee knowledge with friends and neighbors.
You'll learn that storing your Mason bee cocoons in the refrigerator is an ideal winter home, if you don't mind them sharing the crisper with your salad greens. However, leafcutter bees are best a bit warmer, such as in an unheated garage. Why go to all this trouble? "Pest control is the primary reason for harvesting cocoons. We want our bees to thrive, not just survive, for next season's pollination."
Excerpted from the Winter 2017 Arboretum Bulletin.
Keywords:
Reviews
---
Need an answer to your gardening question? Ask us directly!