Elisabeth C. Miller Library
Gardening Answers Knowledgebase
Knowledgebase record #291
---
Reviewed by: Brian Thompson
Review date: 2017-04-01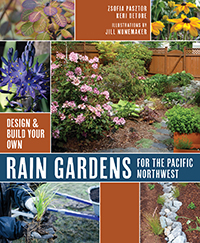 When I first picked up "Design & Build Your Own Rain Gardens for the Pacific Northwest," I immediately turned to the back to look at the recommended plant list. But this list is placed at the end with good reason. It is not the place to start!
Instead, the authors thoughtfully take you through the many considerations that go into a rain garden. First of all, why do we need them in our (supposedly) rainy climate? How do the various areas of our region differ in their rainfall and geological factors? Once that's figured out, there is the human element. What do our various cities, counties, and other government entities think about or allow with rain gardens?
Once you have a handle on these questions, you need to look at your own property. What permits do I need? Whom do I need to notify that I'm digging a big hole? Are there incentive programs in my area for rain gardens? How do I want to incorporate this new major project into my outdoor living space, so that it only positively affects my home and the properties of my neighbors? Finally, what do I actually need to buy from the hardware store and nursery to build and plant a rain garden?
These are many questions, but this book takes you through them systematically and in great detail. Many instructive photographs and building diagrams will help, too. I soon found myself getting intrigued by the process. Building a rain garden is not a simple process to complete over a free weekend, but if you are serious about it, this book will be an excellent resource.
Excerpted from the Spring 2017 Arboretum Bulletin.
Keywords:
Reviews
---
Need an answer to your gardening question? Ask us directly!