Elisabeth C. Miller Library
Gardening Answers Knowledgebase
Knowledgebase record #292
---
Reviewed by: Brian Thompson
Review date: 2017-04-01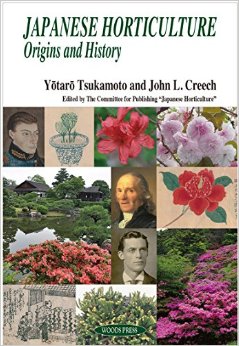 There are many books in the Miller Library on Japanese gardens and even more on Japanese-style gardens outside of Japan, but very little about the history of Japanese horticultural practices. A new book, "Japanese Horticulture: Origins and History" by Yōtarō Tsukamoto (1912-2005) and John L. Creech (1920-2009), helps fill this gap.
We are very fortunate to have this book at all. Although Tsukamoto and Creech had long planned this collaboration, the manuscript was not completed before their deaths, and it was only through the work of a group of Japanese editors that the book was published in 2015.
The authors begin their study by looking at the rich (over 6,000 species) native flora of Japan, introducing the plant communities by reviewing 26 sites in the national park system. This is an important starting point, as few of the plants used in early Japanese gardens were non-natives. A chapter follows on the iconic plants of Japan, including ornamental cherries, iris, and azaleas, plus a few introduced plants, especially chrysanthemums and peonies.
The book concludes with the long history of visiting horticulturists to Japan, and especially the exchange between that country and the United States, such as the partnership that led to this book. "Among the complexities of Japan/United States relationships, plant have played a singular but often ignored role in fostering a harmonious social environment."
This book is a rare, new treasure in the Miller Library collection, and as such is not available to borrow. However, for all who are interested in the history of Japanese gardening, or perhaps after attending a tea ceremony at Seattle's Japanese Garden, I recommend seeking it out when visiting the library.
Excerpted from the Spring 2017 Arboretum Bulletin.
Keywords:
Reviews
---
Need an answer to your gardening question? Ask us directly!