Elisabeth C. Miller Library
Gardening Answers Knowledgebase
Knowledgebase record #296
---
Reviewed by: Priscilla Grundy
Review date: 2017-07-01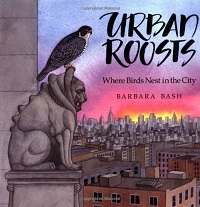 After you read this book to a child, go for a walk in the urban landscape and ask, "Where could birds roost?" Children will be eager to look up and around for the kinds of nesting spots described and pictured in Urban Roosts. Barbara Bash has chosen a dozen species and multiple city sites to tell how pigeons, finches, crows, and falcons have adapted to the city, finding tiny but sheltering niches to call home. The colors are soft, mainly pastels, and the bird sketches clearly identifiable. Although this is aimed at the picture book set, adults may find themselves searching for city nests, too, after sharing this book with a child.
Published in the July 2017 Leaflet Volume 4, Issue 7.
Keywords:
Birds
,
Reviews
,
Children's literature
---
Need an answer to your gardening question? Ask us directly!