Elisabeth C. Miller Library
Gardening Answers Knowledgebase
Knowledgebase record #297
---
Reviewed by: Brian Thompson
Review date: 2017-07-01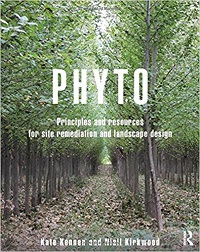 What is phytotechnology? Kate Kennen and Niall Kirkwood define it in part as "the use of vegetation to remediate, contain or prevent contaminants in soils, sediments and groundwater."
How is this done? Kennen and Kirkwood use their new book, Phyto: Principles and Resources for Site Remediation and Landscape Design, to answer this question. They specifically target landscape architects, urban planners, and others who are interested in applying the lessons of the relatively new field of using plants as problem solvers in design, construction, and maintenance.
This book is superbly organized and very detailed, but the reader is not expected to have a deep understanding of the science or engineering of phytotechnology. Instead, the emphasis is on results, particularly on properties that have a significant history of degradation and are in close proximity to urban development, including active industrial, commercial, and residential neighborhoods.
There are many case studies. The examples are typical to any city, but some of the at-risk properties are surprising, and include community gardens and cemeteries – humans have a significant impact on almost any development. Once the hazards of a site are identified, solutions are suggested and clearly illustrated. This excellent book concludes with guides to additional resources and an extensive bibliography.
Published in the July 2017 Leaflet for Scholars Volume 4, Issue 7
Keywords:
Reviews
---
Need an answer to your gardening question? Ask us directly!