Elisabeth C. Miller Library
Gardening Answers Knowledgebase
Knowledgebase record #302
---
Reviewed by: Brian Thompson
Review date: 2017-02-01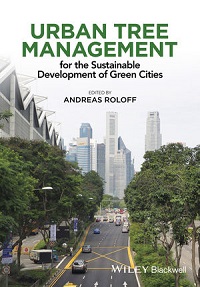 In the opening chapter of Urban Tree Management, editor Andreas Roloff introduces the common problems associated with trees growing in the public spaces of cities. He quickly dismisses these by concluding: "…the positive aspects are always likely to prevail. The occasional inconvenience caused by trees should therefore be tolerated."
This no-nonsense approach is typical of this collection of essays by numerous German experts that Roloff, the chair of Forest Botany at Dresden University of Technology, has collected. Of course – the authors would agree – trees are essential to cities!
While this attitude may represent an especially German viewpoint, I believe it will resonate with local arborists and others who care for the trees in city landscapes. In later chapters, the problems the editor initially presents, and many more, are addressed pragmatically and in considerable detail.
The result is an excellent reference book. All aspects of tree health, maintenance, and selection are considered. Potential issues with governing bodies and conflicts with human activities are discussed. The educational, social, and public health benefits of urban trees are championed.
This book is somewhat rare in this country, so is for library use only. However, each chapter includes an extensive list of references, most in English, and many that are readily available in print or online. For another positive review and perspective on the value of this book, see the article by Julian Dunster in the Summer 2016 issue of Pacific Northwest Trees. It's available in the library, or online via the Pacific Northwest International Society of Arboriculture website.
Published in the February 2017 Leaflet for Scholars Volume 4, Issue 2.
Keywords:
Reviews
---
Need an answer to your gardening question? Ask us directly!