Elisabeth C. Miller Library
Gardening Answers Knowledgebase
Knowledgebase record #303
---
Reviewed by: Brian Thompson
Review date: 2017-01-01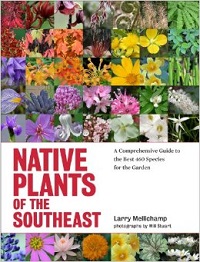 In the spring of 2014, I visited the North Carolina Botanical Garden in Chapel Hill, NC. I was delighted by this extensive collection of herbaceous and woody plants mostly native to the southeastern United States. Many of these plants, or their close relatives, can thrive in our Pacific Northwest gardens.
These are featured in a book that was published later in 2014: Native Plants of the Southeast. Author Larry Mellichamp is the retired director of the botanical garden at the Charlotte campus of the University of North Carolina and has considerable experience with plants throughout the temperate southeast.
This book is much more than a field guide. Each plant is evaluated for garden cultivation. An extensive introduction discusses the merits and challenges of using native plants in a landscape, with principles that would be applicable in our region. The plant encyclopedia is interspersed with essays on broad groupings of plants with an emphasis on garden adaptability.
If this book sparks your interest in this region, consider visiting! The University of Washington Botanic Gardens is leading a trip to Savannah, Georgia and Charleston, South Carolina this coming March. All the details are online, but hurry – reservations must be received by January 19.
Published in the January 2017 Leaflet Volume 4, Issue 1.
Keywords:
Reviews
---
Need an answer to your gardening question? Ask us directly!