Elisabeth C. Miller Library
Gardening Answers Knowledgebase
Knowledgebase record #32
---
Reviewed by: Brian Thompson
Review date: 2013-04-01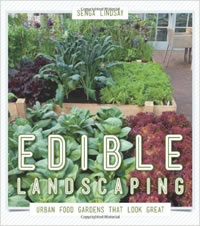 "Edible Landscaping" is not your typical vegetable gardening book. You will not find an A-Z encyclopedic listing of popular vegetables, nor is there much cultural information specific to each crop. Instead, this is a garden design book with an eye to making edible plants the key feature.
Author Senga Lindsay, a landscape designer and gardener in North Vancouver, B.C., challenges and encourages you, the home gardener, to take charge of your garden's appearance and assumes that you don't want your "...yard to look like a 'dog's breakfast'--messy, unkempt and utilitarian." After outlining basic planning steps, she presents fifteen different model gardens, each with detailed plans, lists of needed supplies, and step-by-step procedures for installation.
These plans range from the traditional row garden to green roofs and walls to parking strips. Your garden may need to satisfy a gourmet chef, or accommodate a disabled gardener, or engage young children--all are addressed with the same level of detail. While you can follow one plan to the letter, the elements from the plans can easily be blended as needed.
Excerpted from the Spring 2013 Arboretum Bulletin.
Keywords:
Reviews
---
Need an answer to your gardening question? Ask us directly!