Elisabeth C. Miller Library
Gardening Answers Knowledgebase
Knowledgebase record #77
---
Reviewed by: Brian Thompson
Review date: 2012-10-01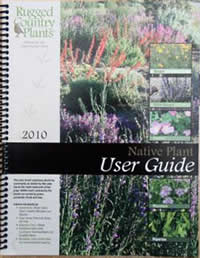 Gardeners east of the Cascades will be pleased to have this addition to the limited collection of garden books for their region. Native Plant User Guide is published by the nursery Rugged Country Plants in Milton-Freewater, Oregon and, while self-promoting, there is far more descriptive detail and cultural help than you'd expect from a nursery catalog. With careful reading, gardeners west of the Cascades will pick up useful ideas, too.
Excerpted from the Fall 2012 Arboretum Bulletin.
Keywords:
Native plants--Washington
---
Need an answer to your gardening question? Ask us directly!