Elisabeth C. Miller Library
Gardening Answers Knowledgebase
Knowledgebase record #8
---
Reviewed by: Rebecca Alexander
Review date: 2015-06-06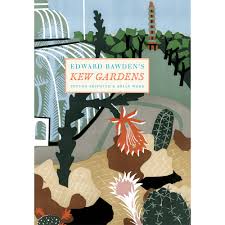 This book defies easy categorization. Bawden was a renowned British illustrator, graphic artist, and painter who served as an official War Artist during World War II. He and his contemporary Eric Ravilious studied with surrealist landscape painter and engraver Paul Nash, and his influence can be felt in Bawden's lively calligraphic line, and his modernist approach to landscapes and cityscapes. Until exploring this book, I was most familiar with his posters for London Transport, depicting sights and scenes around London.
The first section of the book reproduces Bawden's very early manuscript (created when he was just twenty), A General Guide to the Royal Botanic Gardens Kew, Spring and Easter 1923. The second section is a brief but eccentric sociocultural history of Kew, incorporating Kew-inspired illustrations, verse, and humor. The third section is a selection of Bawden's wry illustrations for Robert Herring's Adam and Evelyn at Kew. The last section summarizes his lifelong artistic fascination with Kew. Those who are interested in 20th century art and the history of Kew will find it a fascinating book to read and savor.
Keywords:
Reviews
---
Need an answer to your gardening question? Ask us directly!