Elisabeth C. Miller Library
Gardening Answers Knowledgebase
Knowledgebase record #95
---
Reviewed by: Brian Thompson
Review date: 2010-10-01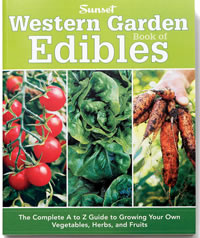 For an encyclopedic approach to vegetable gardening, consider the Sunset Western Garden Book of Edibles. Like most Sunset books, this encompasses the entire west in its scope, so ignore the entry on macadamia nuts, but with the fine tuning that the Sunset zones allow, you can zero in on what will grow for you, including fruits, nuts, berries, and herbs.
Excerpted from the Fall 2010 Arboretum Bulletin.
Keywords:
Edible landscaping
---
Need an answer to your gardening question? Ask us directly!