Elisabeth C. Miller Library
Gardening Answers Knowledgebase
Search Results for: Reviews | Search the catalog for: Reviews
---
Recommended Websites
Chicago Botanic Garden book reviews
Brooklyn Botanic Garden book reviews
Garden Tip
Keywords: Seed dormancy, Propagation, Shrubs, Seeds, Perennials, Ornamental grasses, Herbs, Ferns, Reviews
A book by Jekka McVicar called
Seeds: the ultimate guide to growing successfully from seed
(Lyons Press, 2003, $22.95) will help you turn your seedy hopes into plant reality. Thirteen chapters are divided by types of plant including ferns, grasses, shrubs, perennials and herbs. The practical information that applies to all kinds of seeds, such as what type of soil to use, and how to break seed dormancy, is included in the last chapter. Color photos illustrate throughout. For online tips for seed starting go to:
http://cru.cahe.wsu.edu/CEPublications/pnw0170/pnw0170.pdf
from Oregon State University.
Date: 2006-03-01
Link to this record (permalink)
Garden Tip
Mole activity increases in the summer. If you have found you simply cannot tolerate "nature's rototiller" than take a look at the book Of Moles and Men: the Battle for the Turf by Patrick H Thompson (Aardvark Avanti, $29.95). With humorous chapters like Know the Enemy and Primitive Tools for Civilized Men Thompson details the pros and cons of mole control. Additional information from Washington Cooperative Extension.
Date: 2007-06-11
Link to this record (permalink)
Garden Tip
Mulch: what is it, why use it, what kind should be used? If you have ever wondered about these questions then read MULCH IT! The author describes the pros and cons of all the various types of mulch imaginable from bark to oyster shells and poultry litter, and how to use mulch around flowers, fruits and vegetables.
Date: 2002-06-19
Link to this record (permalink)
Garden Tip
Keywords: Reviews
Straddling the US/Canadian border are the publications of Lone Pine, with authors from both sides. Three recent titles --
"Water Garden Plants"
,
"Container Gardening,"
and
"Herb Gardening"
-- are each addressed to Washington and Oregon but certainly are applicable further north, too. These are very useful titles for beginners, with the Lone Pine trademark water-resistant covers and easy, travel guide style presentation. Stock up for the new gardeners you know.
Reviewed by Curator of Horticultural Literature, Brian Thompson. Excerpted from the Fall 2008 Arboretum Bulletin.
Date: 2013-08-14
Link to this record (permalink)
Reviewed by: Rebecca Alexander on 2015-06-06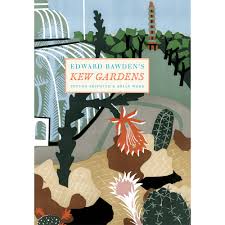 This book defies easy categorization. Bawden was a renowned British illustrator, graphic artist, and painter who served as an official War Artist during World War II. He and his contemporary Eric Ravilious studied with surrealist landscape painter and engraver Paul Nash, and his influence can be felt in Bawden's lively calligraphic line, and his modernist approach to landscapes and cityscapes. Until exploring this book, I was most familiar with his posters for London Transport, depicting sights and scenes around London.
The first section of the book reproduces Bawden's very early manuscript (created when he was just twenty), A General Guide to the Royal Botanic Gardens Kew, Spring and Easter 1923. The second section is a brief but eccentric sociocultural history of Kew, incorporating Kew-inspired illustrations, verse, and humor. The third section is a selection of Bawden's wry illustrations for Robert Herring's Adam and Evelyn at Kew. The last section summarizes his lifelong artistic fascination with Kew. Those who are interested in 20th century art and the history of Kew will find it a fascinating book to read and savor.
---
Didn't find an answer to your question? Ask us directly!