Elisabeth C. Miller Library
Gardening Answers Knowledgebase
Search Results for: vegetables | Search the catalog for: vegetables
---
Recommended Websites
Growing Food in the City (pdf)
Container gardening with vegetables and herbs
National Center for Home Food Preservation
Keywords: Brassicaceae (Mustard/Cress family), Vegetables--Diseases and pests, Vegetable gardening
We have a couple of beautiful heads of cauliflower and a nice set of broccoli. The cauliflower looked nice until we cut through it to find lots of little bugs, turning some of the flower inside dark. We have a few aphids on our mustard greens, but the cauli bugs do not look like aphids.
Is it possible to grow ANY Cruciferae up here without infestations? I have NEVER been able to grow ANY type without some kind of bugs. At least the aphids wait until the bok choy flowers before they infest....and our yard has lots of ladybugs! Is there any hope?
Answer:
We recommend that you start your seeds indoors to reduce the threat of insect infestation. Once the plants have begun to establish themselves, you can move them outdoors.
These books have great information about growing vegetables in the Pacific Northwest:

Growing Vegetables West of the Cascades: The Complete Guide to OrganicGgardening (by Steve Solomon, Sasquatch Books, 2007)
Sunset Western Garden Book of Edibles (Sunset, 2010)
Winter Gardening in the Maritime Northwest(by Binda Colebrook).
Colebrook explains that crucifers are "susceptible to attack by clubroot, cabbage loopers, imported cabbageworms, cabbage maggots, and gray aphids." Sunset recommends that to prevent pests, "plant in a different site each year. Row covers will protect plants from aphids, cabbage loopers, imported cabbage-worms, and cabbage root maggots. Collars made from paper cups or metal cans (with ends removed) deter cutworms, which chew off seedlings at the base."
Date 2019-09-11
Link to this record only (permalink)
Keywords: Vegetables--Diseases and pests, Slugs, Cutworms, Artichokes (common)
I have about 20 healthy artichokes. They did not die back in the winter. I think that there is a lot of bug activity going on in them: earwigs, slugs. Should I cut the plants to the ground and dispose of the possible bugs that have wintered over in them? I hate to do it because the foliage is so lovely.
Answer:
I have grown artichokes for the last 5 years, so I am going to answer from personal experience.
Do not cut the plants back because they will be sending up their flowers in the next few weeks (depending on the weather, it could be as late as June). Cutting it back now will just delay any flowers for at least 6-8 months, if not kill them outright. While I too have had numerous slugs, earwigs and cutworms, I find that their damage is minimal, and does not hurt the flower show. And for eating I just wash them carefully and then turn a blind eye when I find a few earwigs in the pot after cooking!
Sprinkling some Sluggo (or comparable less toxic slug bait) into the leaf joints will help too.
Date 2019-11-07
Link to this record only (permalink)
Keywords: Vegetables--Diseases and pests, Powdery mildew diseases, Perovskia
Last year I planted 25 gorgeous Russian Sage in 1 1/2 gal pots. They were fabulous last year, but barely came back this year. We had a mild winter here in New Jersey, but even so, I know that is not an issue with that plant as I've grown it for years. This year I planted an additional 40 in the same hillside and they are doing phenomenally well. On last year's plants, some have flowered a tiny bit, but none have come back to the size they were and most are so small, they look like they came from a 6-inch pot! Do you have any thoughts as to what I can do to improve the situation?
Also, although we haven't had much rain, I am seeing what I'm assuming is mold on several of my plants: trumpet vine, roses, honeysuckle. The zucchini and cucumbers have been totally decimated so there is no fruit. White is covering the leaves and with the veggies, the leaves are crumbling and disintegrating.
Answer:
There are a few possibilities for the poor showing of your Russian Sage (Perovskia atriplicifolia) plants. However, without knowing more details about the growing conditions, I may be offering you advice that does not help. If the pots you selected to grow your plants in were made of a thin material, there is a chance you did not provide them with enough protection from the winter temperatures. Planting them directly into the ground can help to avoid this, if it's possible for you to do so in their location.
Depending on the amount of sun and moisture your plants are receiving, poor growth can result. Russian Sage plants like "a well-drained soil and need to have a warm to hot, sunny position" in the garden. (The Cultivation of Hardy Perennials by Richard Bird published in London by B.T. Batsford Ltd in 1994) If the soil is too wet, root rot can occur.
If they are in the proper cultural environment (lots of sun and well-drained soil), then perhaps they are lacking nourishment. The Plant Care Manual by Stefan Buczacki (published by Crown Publishers in New York in 1993), suggests feeding your plants with a general purpose fertilizer in mid-spring and in mid-summer.
As for your second question, I believe what you are describing is a case of powdery mildew. It is a fungus that shows itself in times of dry weather. The main thing you will need to do is destroy all the foliage affected by the mildew. The mildew on infected foliage will spread to new foliage.
Powdery mildew thrives where plants are crowded and there isn't enough air circulation, so give your plants space, a sunny site, and try watering in the morning, and watering from beneath the plants (not over the leaves) so they are able to dry off during the course of the day.
Here is a link to the University of California-Davis, Integrated Pest Management website. You can learn more about this fungus, including host plants, life cycle and management.
Colorado State University Cooperative Extension has some information about powdery mildew as well, including preventative measures and a recipe for making your own baking soda fungicide.
Date 2019-12-27
Link to this record only (permalink)
Keywords: crop rotation, Vicia faba, Vegetables--Diseases and pests
I have small ants on my fava beans and it appears that some of the young pods are blackening. Do ants eat fava beans? Is there anything I can do this year, or should I just start over next time in a different location?
Answer:
The ants may be visiting the extrafloral nectaries of your fava bean plants! (see this photo of just this activity)
Apparently, some insects are attracted to the nectar of Vicia faba, according to Oregon State University Extension:
"Many beneficial insects, including predatory wasps and lady beetles, are attracted to the nectar of flowering fava bean.
"Fava bean also has extrafloral nectaries on its stipules, the leaf-like structures at the base of the leaf petioles. Extrafloral nectar is available to short-tongued insects that do not have access to the nectar of the legume flowers. Both beneficial and pest insects (e.g., lygus bug) feed on extrafloral nectar.
"Fava bean is susceptible to aphid damage, especially from the bean aphid. Although aphids usually do not affect fava bean's utility as a cover crop, they can cause considerable damage to the seed. Broadbean weevils also can reduce seed yields."
Here is similar information, from Golden Gate Gardener.
It's possible that the blackening is from aphid honeydew, or perhaps it could be chocolate spot, which is a fungal disease (Botrytis fabae). Here is more about this, from the Royal Horticultural Society.
Practicing crop rotation might be beneficial with your favas as it is with other edible plants. Below is additional information on vegetable crop rotation.
Washington State University Extension: Using Crop Rotation in Home Vegetable Gardens

To check your favas for botrytis or other diseases, take samples to a Master Gardener Clinic for diagnosis.
Date 2019-06-05
Link to this record only (permalink)
Keywords: vegetables--preservation, fruit--preservation
I've never done any canning before but now that I've started growing more of my own fruit and vegetables I want to know how to do it safely! I've heard about a few different canning processes (water bath and pressure). Is one method or another best for certain types of food?
Answer:
There is a very helpful article for canning beginners in the July/August 2012 issue of Urban Farm magazine, entitled "Oh, You Know I Can!" by Lindsay Evans. You mention the only two canning methods which the article says are approved by the U.S. Department of Agriculture as safe, water-bath and pressure canning. Their National Center for Home Food Preservation has extensive information. Here are excerpts:

Proper canning practices include:

carefully selecting and washing fresh food,
peeling some fresh foods,
hot packing many foods,
adding acids (lemon juice or vinegar) to some foods,
using acceptable jars and self-sealing lids,
processing jars in a boiling-water or pressure canner for the correct period of time.
Methods that are NOT recommended are open-kettle and steam canning, or using the oven or microwave to process filled jars.
The article has a handy list of which foods work best with water-bath canning, and which with pressure canning. Generally, high acid foods (pH level of 4.6 or less) can be processed with the water-bath method and low acid foods (pH of 4.6 or more) must be canned using pressure. High acid foods include apples, apricots and other stone fruit, berries, cherries, lemons, pears, tomatoes, pickles and sauerkraut. Low acid foods include asparagus, beets, carrots, corn, green beans, lima beans, rutabagas, and turnips.
Here is a link to more canning information from the National Center for Home Food Preservation.
Date 2019-10-11
Link to this record only (permalink)
Keywords: wireworms, Vegetables--Diseases and pests
Our community vegetable garden has been overrun with wireworms this year. Is there anything we can do to control them?
Answer:
Here are the links I've located which mention some organic controls for wireworms:
Vancouver Sun article by Randy Shore on organic managmenet of wireworm and root maggot. A research biologist in British Columbia, Todd Kabaluk, has an article in British Columbia Organic Grower, volume 19, issue 3, Spring 2016, pp.19-21, Wireworms: Is There Hope for Protecting Our Crops?.
Wireworm Biology and Nonchemical Management in Potatoes in the Pacific Northwest (specific to potato crops in the Pacific Northwest, but includes useful information that shows the science to back up suggestions in the previous link)
As you might expect, organic methods are not the toxic silver-bullet approach to pest management--they are longer range. You might have community gardeners plant their crops in containers for the time being (or maybe someone would be willing to donate raised beds?).
I consulted Backyard Bounty: The Complete Guide to Year-Round Organic Gardening in the Pacific Northwest by Linda Gilkeson (New Society Publishers, 2011). Here's a summary of what she says:

Check the soil for the eggs of adult beetles in April and May.
"Wireworms can be especially damaging for the first few years after new sod is turned for a garden."
Larvae take 3-6 years to develop into adults. The worst damage is in spring and fall when they feed close to the soil surface. In summer and winter, they burrow deeper--but they also do this when there is nothing to eat. As you have already noticed, they are attracted to plant roots.
Planting late avoids some wireworms. The author recommends not planting fall rye as a cover crop, as it attracts adults to lay eggs there. "Instead of cover crops, I prefer to keep empty garden beds weed-free all winter and use compost and leaf mold to add organic matter. Sow extra seeds of peas, beans and corn to allow for losses. Lightly fork over the soil in annual beds several times before planting and pick out wireworms; their light color makes them easy to see against the soil."
She suggests removing all weeds and roots from the bed. Then, use chunks of potato and carrot as bait, skewering each chunk on a short stick (to serve as a marker) and bury the pieces a few inches deep in the soil. Pull up the wireworm traps every day or two and destroy the worms. "For heavily infested soil. it might be worth trying 'trap crops.' Starting with bare soil, about 10 days before you want to plant the bed, sow rows of wheat or barley (about four seeds per inch) about a yard apart. The germinating seeds attract the wireworms if there are no other roots in the soil. After 10 days, pull the grain seedlings and destroy any wireworms found in the soil along the row and among the roots."
About parasitic (beneficial) nematodes, she says that the only species that has shown some effectiveness against wireworms is Heterorhabditis bacteriaphora.
Date 2019-08-07
Link to this record only (permalink)
Keywords: Vegetable varieties, Tomatoes
What are the best types of tomatoes for the Pacific Northwest climate?
Answer:
In Growing Vegetables West of the Cascades (Steve Solomon, 2000, pp.241,242), the author notes that any tomato advertised in a seed catalog as needing more than 72 days for maturity will not likely reach a ripe old (tasty) age in our region. Solomon suggests purchasing seed only from regional companies like Territorial Seed Co. or West Coast Seeds. The varieties he recommends are
1. some that ripen early in the Willamette Valley (bred by Jim Baggett) = Oregon 11, Oregon Spring, Santiam, and Gold Nugget
2. slicers = Fantastic Hybrid, Pic Red, Early Cascade, and Kootenai
3. cherry = most are prolific here, but Solomon prefer's Jim Baggett's Gold Nugget
Here is a link to an article by Chris Smith in the Seattle Post-Intelligencer (01-19-2006) that introduces some new tomatoes and other vegetables for 2006.
Seattle Tilth has an article by Kirsten DeLara (2011) called "Grow Great Tomatoes in Seattle" which includes a list of the author's favorite varieties for our area. Also check Seattle Tilth's annual list of tomatoes available at their sales, and their reports on tomato tasting results.
Mother Earth News published an article on the best Pacific Northwest varieties in February/March 2010.
Date 2019-05-10
Link to this record only (permalink)
I have grey-green fairly large caterpillars eating my foxgloves. They are eating them to shreds but I have hopes that they will still flower. They are leaving what looks like rodent droppings in the leaves. They are eating only the foxgloves. My question is what are they and is it okay to keep the plants or should I pull them up?
Answer:
I strongly suspect you have variegated (or climbing) cutworms. I have these nasty bugs too and can give you a long list of plants they eat. Foxgloves are their favorite. Here are some management solutions in order of most work, least toxic to less work, but more toxic:
1) hand-pick after dark (with a flashlight) starting in January and continuing through May.
2) spray Bt (Bacillus thuringiensis) (found in Caterpillar Killer). It must be reapplied after rain. Be careful where you spray it because it will also kill butterfly caterpillars.
3) general pesticides will kill cutworms and many other critters that come along, including bees and may harm birds.
Here are some links to more information:
U.C. Davis Integrated Pest Management
Oregon State University Department of Horticulture
Date 2019-08-14
Link to this record only (permalink)
Keywords: Viburnum, Integrated pest management, Aphids
I have a small snowball bush that I planted three years ago. Each spring this plant is inundated with more and more ants and aphids. I try to garden organically and could use Safer Soap on it, but it is large and the leaves are all curled under and withering from the insects. Is there anything other than Safer Soap that I could use to help the plant, either systemic or otherwise?
Answer:
Following are the best sources I have found about environmentally friendly control of aphids.
Aphids (order
Homoptera
)
Host/Site:
Almost all plants have an aphid species that may occasionally feed on them. Many aphid species attack several plants rather than having only one host. Trees (esp. birch, beech, maple, apple, peach, apple, plum, cherry, spruce, dogwood, willow); annuals (esp. nasturtium, snapdragon); perennials (esp. lupine, roses, lilies, begonias, columbine); vegetables (esp. peas, beans, brassicas, lettuce, spinach); fruit (esp. apple, peach, cherry).
Identification/appearance:
Small (2 mm long), pear-shaped, softbodied insects in a range of colors (green, brown, red, yellow, black). Most are wingless, but winged aphids appear at certain times, especially when populations are high or during spring or fall. A few species appear waxy or woolly. A magnifying glass will reveal the long, slender mouth parts used to suck plant fluids. Aphids are usually found in clusters, especially on new growth. Signs of aphid infestations include sticky honeydew on leaves or under plants, distortion of leaves, stunting of shoots, or large numbers of ants on the plant.
Life Cycle:
Overwintered eggs of some common garden species hatch in spring. These wingless females reproduce asexually, bearing live young (up to 80 per week) that already have the next generation developing inside. Young aphids, called nymphs, molt four times before becoming adults. There is no pupal stage. This simple, rapid reproduction allows for very large population increases in a short time. Late in fall, males and females are produced, mate, and the females subsequently lay eggs. Winged aphids may appear at certain times, allowing the colony to move to other locations. Not all aphid types have this reproductive pattern, but many do.
Natural Enemies:
Aphids have many natural enemies, including birds, spiders, ladybird beetles, lacewings, syrphid fly larvae, and braconid wasps. A naturally occurring fungal disease can also kill aphids when conditions are right. Ants have a symbiotic relationship with aphids: ants milk the aphids for honeydew while protecting the aphids from natural enemies.
Monitoring:
Check plants often, since aphid populations can rise rapidly. Inspect growing tips and undersides of leaves. On trees, clip off leaves from several parts of the tree to look for aphids. If you see large numbers of ants on tree trunks, check for aphids on limbs and leaves. Look also for associated signs, such as yellowed leaves, stunted or distorted growth, or dripping honeydew. Sticky traps can be used to monitor for winged aphids. Check for signs of predators (named under Natural Enemies above), aphids that have been parasitized (look for a small exit hole on a dead, brown aphid body), or that have been killed by disease. Substantial numbers of any of these natural control factors can mean that population numbers will fall rapidly without the need for treatment. Because of the rapid changes that can occur in aphid populations, it is important to record monitoring data to detect changes due to predators or treatments.
Action Threshold:
Due to the incredibly high numbers that may be present, counting individual aphids is usually not practical. Action thresholds can be based on general descriptions of aphid density, plant damage such as stunted or distorted growth, or unacceptable amounts of honeydew beneath trees. Treatment should be triggered by rapidly rising numbers, unacceptable plant damage, or by honeydew falling on structures and people. Aphids seldom kill a plant, but they can cause defoliation. They also carry diseases from one plant to another. It is usually not necessary or even desirable to treat at the first sign of aphids, since low populations are needed to sustain predators.
Cultural/Physical Controls:
Plant selection: If possible, avoid or consider replacing varieties such as birch that have ongoing, serious aphid problems. Check transplants for aphids and remove them before planting.
Water spray: A strong blast of water knocks aphids from the plant, and most will not return. Water also helps rinse off the honeydew. Do this early in the day to allow leaves to dry and minimize fungal diseases.
Pruning: Where high aphid populations are localized on a few curled leaves or new shoots, prune these areas out and drop in soapy water to kill the aphids.
Fertilization control: High nitrogen levels favor aphid reproduction. Avoid over-fertilization and use slow-release rather than highly soluble fertilizers.
Sticky or teflon barriers: If you see ants crawling up the trunk of trees or other woody plants, place a band of sticky material (such as Tanglefoot or Stik-Em) around the trunk. Place a protective band of fabric tree wrap or duct tape underneath the barrier first. Teflon tape barriers may also be effective. Prune out branches touching the ground, buildings, or other plants.
Biological Controls:
Since aphids have many natural enemies, biological control usually means protecting these enemies from ants and avoiding broadspectrum pesticides that kill beneficial insects. Recognize that predator populations usually lag behind aphid populations in time. A number of aphid enemies can be purchased for introduction into landscapes. Ladybird beetles, lacewings, and parasitic wasps and flies are all available. Although such introduced predators may not remain where released, some benefit is likely, especially if releases are staggered in time. Many of the natural predators of the aphid are especially attracted to a garden with plants in the Umbelliferae family, such as angelica, sweet cicely, dill, and Queen Anne's lace. The flowers of these plants provide a good food source for insects, especially parasitic wasps, who may stay to prey on some aphids as well.
Chemical Controls:
Insecticidal soap is widely recognized as the least-toxic chemical aphid control. Although its effect is temporary, it can help to bring aphid numbers down so that natural enemies can take care of them. Repeat applications within a few days may be necessary. Soap works only by direct contact with the insects. Be sure to cover both sides of the leaves. Although readily biodegradable, soaps are highly toxic to fish, so avoid runoff or direct application to water. Avoid using when temperature exceeds 90 degrees F.
Oil sprays:
Supreme or superior-type oils will help to kill overwintering aphid eggs on fruit trees if applied as a delayed dormant application in early spring. Although perhaps not justified for aphid control alone, oils can also control other overwintering fruit pests. Oils may, however, kill some beneficial species. Summer weight oils are also available, but they can burn tender leaves when applied in hot sun.
Conventional chemical control:
Foliar applied insecticides (malathion, diazinon, carbaryl, pyrethrin) are broad spectrum and will kill beneficial insects. They should be avoided, especially in home gardens and landscapes. Remember that allowing some aphid population in the garden helps to keep predators available.
ProIPM Integrated Pest Management Solutions for the Landscaping Professional
The Green Gardening Program is a collaborative effort of Seattle Tilth, Washington Toxics Coalition, and WSU Cooperative Extension, King County.
Sponsored by the Seattle Public Utilities in an effort to promote alternatives to lawn and garden chemicals.
Funded by the Local Hazardous Waste Management Program in King County.
Written by Philip Dickey, Graphic Design by Cath Carine, CC Design
Pest description and crop damage:
Aphids are soft-bodied insects that typically feed on leaves and succulent stems. They may vary in color from pale green or reddish to dark or black. Aphids are usually less than 1/8 inch in length.
Feeding damage to the plant is usually minor, although some leaf and shoot distortion can occur if populations are high. Aphids also produce honeydew, a sweet, sticky secretion that collects on plant tissues and encourages growth of a black sooty mold. This can interfere with photosynthesis of the plant. Honeydew is also a nuisance when it falls on decks, cars, or other landscape surfaces. They are a problem in early summer.
Biology and life history:
Most species of aphids have similar life cycles. Aphid females give birth to live offspring all year without mating. When other hosts are not available, aphids live on a wide variety of weeds. Aphids usually are found in colonies on new growth, the underside of leaves, and near flower and fruit clusters. In summer and fall, aphids may produce winged females and, later, winged males. They mate and produce eggs for overwintering, especially in colder climates. Otherwise, adult aphids overwinter on crops, weeds, or trees. There may be as few as 2 or as many as 16 generations each year, depending on the species and climate.
Management & biological control:
Aphids have many natural enemies, including lady beetles, syrphid fly larvae, and green lacewings. Avoid broad-spectrum insecticide applications that would disrupt these controls.
Management & cultural control:
Wash aphids from plants with a strong stream of water or by hand-wiping. Aphid populations tend to be higher in plants that are fertilized liberally with nitrogen and heavily watered, as this produces flushes of succulent growth. Avoid excessive watering, and use slow-release or organic sources of nitrogen. Control ants, which farm aphids and protect them from predators in order to harvest their honeydew.
Management & chemical control (home):
It is important to cover foliage thoroughly, including lower leaf surfaces.
1. Beauveria bassiana
2. horticultural oil
3. insecticidal soap
Source:
http://pnwpest.org/pnw/insects
Date 2019-12-07
Link to this record only (permalink)
Keywords: Vinca, Ornamental grasses, Lolium, Lawns and turfgrasses, Landscaping drain fields, Land treatment of wastewater, Hedera helix, Festuca, Arctostaphylos, Ajuga, Achillea
We have a new house that we have to landscape around. The biggest problem is that we have to be careful what we plan due to the septic system. It is an evaporation system, with two huge cement tanks buried under the ground in the front of the house and plastic pipes running through the side yard. We are planting grass in a rectangle right above the biggest bunch of the plastic pipes, but what can go around it or by the cement tanks that will not grow long roots and dig into it? In looking at the planting information on the packages and in my Western Garden Book, nothing seems to mention root depth.
Answer:
Below is an article entitled What to Plant Over the Septic System by Mary Robson (originally published in her Regional Garden Column for Washington State University Extension, December 6, 1998):
"As more and more people move into rural areas, questions about septic systems and landscaping have become quite common. This column deals with some of the basics. A new brochure from Washington Sea Grant called: Landscaping your Septic System, offers considerable detail on the subject and provided much of this material.
"First, be sure that the septic field is clearly identified, and you know where the reserve area is. Keep all construction away from these areas. Understanding the functioning of the system is vital. Get information. (Some of it is available in video form.) The drainfield will not work well if overloaded with extra surface water, so be certain that it is not in the path of downspout run off or irrigation systems.
"Sunlight and air circulation also help the drainfield perform properly. Avoid surrounding it with tall trees. (Some shade is fine, but you would not plant an oak on the edge of a drainfield.) Set up some barriers so that it is not compacted by frequent foot traffic. Occasional mowing or moving through the field to check the system is certainly fine, but you do not want the drainfield in the middle of a heavily used path.
"There are advantages to using plants over the drainfield. Plants do help provide oxygen exchange and contribute to evaporation necessary in the drainfield area. Choose plants with shallow, non-invasive roots. You do not want breakage or damage in pipes from root intrusions.
"Grasses are most commonly recommended for the septic area. Lawn can be attractive. Do not overload the system by watering it a lot. Meadow grasses or a mixture of turf grasses like perennial rye and some broadleaf flowers (such as yarrow) can also look good and require little maintenance. Several mixes sold as Eco-Turf or Fleur de Lawn have these components.
"Small, shallow-rooted ornamental grasses (for instance, Festuca ovina 'Glauca' 4-10 inches) can also be good looking. Very tall grasses like Stipa gigantea are not appropriate. Avoid over-active plants like English ivy (Hedera helix), which is becoming a menace in forested areas by moving in and stifling trees.
"Edible crops are not suggested. Vegetable gardening requires frequent cultivation, and digging in the drainfield area is inadvisable. Also, the brochure notes that: Sewage effluent is distributed through the soil in the drainfield area. Any root vegetables planted in this area may be directly exposed to septic tank effluent.
"Other possibilities are low-growing ground covers. Some, such as bugle weed (Ajuga reptans) and vinca (Vinca minor) grow vigorously and would fill in quickly. The native kinnikinnick (Arctostaphylos uva-ursi) grows well in full sun but is slow to establish. A mulch around the plants may help with weed control while the plants spread.
"The green growing layer over the septic tank helps the system to function, adds to the appearance of the landscape, and should, ideally, be set up to allow easy monitoring and maintenance. Keep landscaping simple and straightforward, remembering that the object is the good performance of the system."
To get more information on septic systems, contact your local health department. The brochure Landscaping Your Septic System (pdf) is available through the Sea Grant Program.
Here are links to publications that might also be helpful:
Mounds: A Septic System Alternative
Understanding and Caring for Your Sand Filter System
Care and Feeding of Septic Tanks
Date 2019-11-15
Link to this record only (permalink)
Keywords: Plant care, Capsicum
For the past several years, I have tried to grow green peppers in our garden. The problem I have had is that they never grow very big, and the peppers never get much bigger than a small plum. I fertilize my garden, add compost, but still get small peppers.
Answer:
Peppers are tricky in our climate. Quoting from Growing Vegetables West of the Cascades by Steve Solomon: These heat-loving plants do not readily adapt to climatic conditions north of the Yoncalla Valley..they are often irreversibly shocked by outdoor night-time temperatures below 55 F.Many gardeners make the mistake of setting peppers out at the same time as tomatoes right after there is no frost danger. This, however, will almost certainly expose them to overnight temperatures of 45 F or even worse. Any surprisingly cool night during June can shock peppers sufficiently to stop their growth for a time. North of Longview, Washington, and along the coast, only the hardiest pepper varieties will grow in cloches or greenhouses.
Source: Growing Vegetables West of the Cascades, by S. Solomon, 2000, p. 210, 236.
Oregon State University has an article entitled "Spice Up Your Garden with the Perfect Pepper" with a link to a guide to growing peppers in the Northwest.
Date 2020-01-16
Link to this record only (permalink)
Keywords:
What are the disadvantages of using white vinegar to lower the pH in my hydroponic system?

I have read that I should use phosphoric acid. But I have also read that phosphoric acid could be bad for hydroponic systems with hard water. I am using well water with a starting pH just below 8.

I also heard that nitric acid would be good for hard water but that the acid may be to aggressive for most novice users.
Answer:
Here is general information on growing hydroponically from Virginia Cooperative Extension:

Hydroponically grown plants must obtain all their nutrients, including trace elements, from the nutrient solution. Success or failure may depend on precise and complete fertilizing practices. Complete nutrient solutions, specifically made for hydroponics, take the guesswork and the mess out of mixing one's own formulas. All hydroponic nutrient solutions must be changed after a short period since evaporation causes concentration of salts in the water. Adding fresh solution to old solution would only make things worse. During spring and summer, pour spent nutrient solution around trees and shrubs.
Here is information from www.oswego.edu on adjusting pH in your hydroponic solution:

* The pH value refers to the acidity or alkalinity of the nutrient solution.
* pH readings run from 0 to 14 (0-6 acidic; 7 neutral; 8-14 alkaline).
* The recommended pH level for a general hydroponic solution is between pH 6 and pH 6.5. (Nicholls, 63)
* Many different variables can effect the pH level.

o Temperature
o Amount of light
o Evaporation
o Tap water refining
o Amount of nutrients

* With this amount of variables, periodically checking the pH level of the solution is vital to maintain a healthy environment for the growth of the plant
* Adjusting the pH level of the nutrient solution can be done simply.

o If a solution is too acidic, add one tablespoon of baking soda to three gallons of solution.
o If a solution is too alkaline, add one tablespoon of white vinegar per four gallons of solution.
This link to Texas Agricultural Extension Service addresses growing vegetables hydroponically, and offers details about nutrient solutions:



The book, Home Hydroponics...and How to Do It by Lem Jones (Crown Publishers, 1990) suggests testing the salt content of your water. Since you are using well water, you would need to contact the State Water Board (here is a link to Department of Ecology's Water Resources page).


If the total amount of dissolved salts in your water is less than 700 ppm, the water should present no problem. This same resource says that a pH of 5.8 to 6.2 should be good for most plants. Since your pH is alkaline, you will need to acidify the solution. For adjusting a few gallons of solution, two regular aspirin per gallon of water will lower a pH of 8.0 to near 6.0. You can use a teaspoon of white vinegar per gallon as an alternative method. In a large sytem, this book recommends using sulphuric acid, but protect yourself from acid splashes and always pour the acid into the water and not the water into the acid.


The book Hydroponics for the Home Gardener by Stewart Kenyon (Key Porter Books, 1992), confirms the above, but remarks that vinegar is only a temporary measure and its effects will not hold for more than a few days. The author recommends using phosphoric acid, which he says is nearly harmless--just be sure to wash any spills off yourself right away with baking soda and water. If you add 0.1 millilitres of phosphoric acid per one gallon of water with a pH of 8.0, and a hardness factor of 136 parts per million, the pH should be reduced to 6.8.
Date 2019-05-15
Link to this record only (permalink)
Keywords: Vegetable gardening, Potatoes
I would like to know how to grow potatoes; how/where best to plant, type of soil, sun/shade requirements, how to tend them, how much fertilizer, when to harvest. I would really like a step-by-step process.
Answer:
I recommend the book, Growing Vegetables West of the Cascades by Steve Solomon (Sasquatch Books, 2007, 6th edition).

The author says it is important to maintain loose soil around the forming tubers so they can expand well. He recommends planting when all danger of frost is past. Your main crop should go in between May 15 and June 1. Plant the seeds in rows 4 feet apart, dropping seeds one foot apart in the row. Your soil should be open, fertile, and moist below the growing row, and very loose, airy and dryish above and around the forming tubers. Cover seed just barely with well-tilled fertile soil, and then gradually hill up a mixture of soil, compost, and decaying vegetation over the growing vines. This cover should remain loose until harvest time. The ideal planting spot is where fava beans have overwintered and been tilled in shallowly. At planting time, sprinkle complete organic fertilizer in a foot-wide band down each future row. Broadcast a half-inch layer of compost over the row.

Seed potatoes should be free of viruses, which means you should purchase certified seeds. The best are "single drops," small potatoes of about 2 ounces each.

When vines appear, they begin rapid growth. When they are 4 inches high, hill them up by using a hoe and scraping a little soil up around the vines. Repeat this process weekly for the first 2 months, and by midsummer you will have continuous mounds about one foot high and 18 inches wide. Vines will begin to fall across the mounds. Now just handpull any weeds, and avoid disturbing the soil.

Varieties recommended are Yellow Finns, Nooksack Cascadian, Red Gold, Caribe, and Kennebec.

Here is some additional growing information from University of California at Santa Cruz's Center for Agroecology and Sustainable Food Systems.

Date 2019-07-17
Link to this record only (permalink)
Keywords: Tomatoes--Care and maintenance
I purchased an heirloom tomato at Home Depot (I know) and planted it deep in a pot in about the middle of June. I put the pot in a very sunny spot, I have fed it twice and watered it daily. It grew like crazy, then slowed when it began to show fruit. Now it is full of fruit but nothing wants to ripen. I removed a tomato today that had split.
Is there anything I can do to help the tomatoes ripen?
Answer:
A few suggestions:
--Do not fertilize the plants any more, as this mostly stimulates growth rather than fruit ripening.
--You can drape clear plastic over the plant to keep the temperature up, especially at night, just make sure to remove it during the hottest days so you do not cook the plants.
--Stressing the plant by cutting the roots with a spade 8-12 inches from the stem will encourage ripening. Underwatering will also stress the plant.
--Remove any flowers and really small fruit that probably will not ripen anyway to encourage the plant's energy towards the developed fruit.
--If you still end up with green tomatoes, bring them inside before the first frost, they may ripen on the windowsill.
Also available in many bookstores or libraries (including the Miller Library) is Growing Vegetables West of the Cascades, by Steve Solomon.
Date 2019-11-07
Link to this record only (permalink)
Keywords: Plant care, Vegetable gardening, Herbs
What herbs and vegetables grow well in very little sun?
Answer:
The following is a list of vegetables that can tolerate partial shade. While productions may be greater in the sun, these plants will produce an edible crop when grown in a shady location.
From an article on The Old House Web (no longer available online):
VEGETABLES
Arugula
Beans
Beets
Broccoli
Brussels sprouts
Cabbage
Cauliflower
Celery
Cress
Endive
Kale
Kohlrabi
Leeks
Parsnips
Peas
Potatoes
Radish
Rhubarb
Rutabagas
Salad Burnet
Sorrel
Spinach
Summer Squash
Turnips
HERBS
Garlic
Angelica
Borage
Caraway
Chervil
Coriander
Parsley
Lemon Balm
Lovage
Mint
Tarragon
Thyme
This article ("Best Shade-Tolerant Vegetables") in Mother Earth News offers more detail about the amount of sun or shade needed.
Remember that most of these plants do not grow in complete shade. Plants will need some morning, evening or filtered sun; a total of two to six hours of direct sun is the minimum.
Date 2019-09-18
Link to this record only (permalink)
Keywords: Trifolium, Pisum, Vicia, Cover crops, Grain, Garden fertilizers, Legumes, Vegetable gardening, Compost
We plan to put in a vegetable garden next spring where we now have grass. It is a great sunny spot that we think would work well for this. The question is, after we cut out the sod this fall, someone has suggested we plant rye grass for the winter, is this a good solution? If not, what do we do to the soil this winter? (We plan to bring in some top soil after we take out the sod).
Answer:
There are several approaches that you can use to get your new garden ready. One is from Growing Vegetables West of the Cascades by Steve Solomon. He recommends removing the grass, covering it with no more than 1/2 inch of completely rotted compost or 1 inch of raw ruminant manure, and spread agricultural lime at 50 pounds per 1,000 square foot. Do this in early October. Then scatter small-seeded fava bean seed at 6 to 8 pounds per 1,000 square feet. Rototill no more than 2 inches deep and relax until May. In late May you rototill deeply and or spade in the overwintered garden area. Then you can plant.
Another information source, Seattle Tilth's Maritime Northwest Garden Guide, recommends using an annual winter cover crop to improve the soil. It suggests using 85% legume and 15% grain for maximum nitrogen fixation. For the legume, you can use Field peas, Crimson clover, Fava beans or vetch. For the grain you can use cereal rye, winter wheat, spelt or barley. Most of these are applied at about 2 pounds per 1,000 square feet. Again you would rototill or turn under the cover crop in late April or May.
Solomon's method will provide a better total approach. You also should consider having your soil tested to find out what is missing and what your pH level is.
Date 2019-08-16
Link to this record only (permalink)
Keywords: Vegetable gardening, Corn
Can you tell me some varieties of corn that do well here? I would like to do an early and a midseason variety. Which ones do you like the best?
Answer:
I consulted Growing Vegetables West of the Cascades by Steve Solomon, and he says the thing to look for is the number of heat units (HU) required for the corn to reach maturity. Early corn needs about 1,300 HU, later types need over 2,200. We need to choose varieties on the lower end of the HU scale. (Seed catalogs for commercial growers typically have this information, while retail catalogs may not. If you look at a Northwest catalog, such as Territorial Seeds in Oregon, the maturity dates will be closer to our own.)
Solomon lists 'Earlivee' as an early sweet corn variety. In general, he seems to prefer hybrid varieties to open-pollinated, because they may have low yields and less than optimum eating quality, although 'Hooker's Sweet Indian' is one that Territorial carries and which he thinks is worthwhile. He recommends 'Jubilee' as a main season hybrid choice, but says, "It will just barely mature in warmer microclimates around Puget Sound." He recommends choosing small-eared and richly flavored varieties like 'Seneca,' and his final word is that he would grow early corn as the main crop in our area.
The New Twelve Month Gardener: A West Coast Guide has a longer list of recommended varieties, but less detail about their particular requirements and merits: 'Golden Jubilee,' 'Seneca Horizon,' 'Sugar Dots,' 'Bodacious,' 'Chief Ouray,' 'Miracle,' 'Sugar Buns,' 'Jubilee Super Sweet,' 'Seneca Appaloosa,' and 'Golden Bantam.'
Date 2019-11-14
Link to this record only (permalink)
Keywords: Crops and climate, Cicer arietinum
I'm interested in growing garbanzo beans. Do they work in the Seattle climate?
Answer:
The following information from University of Wisconsin's Alternative Field Crops Manual indicates that garbanzo beans are grown as a crop in Eastern Washington.
According to Steve Solomon's Growing Vegetables West of the Cascades (Sasquatch Books, 2000), Cicer arietinum should be sown here in early March to early April, the earlier the better, because the crop needs soil moisture. However, you should sow when the soil is warm enough for the seed to sprout. Plant an inch deep, 3 to 4 seeds per foot, in rows 3 feet apart. You can mix compost into the rows before planting, which should be sufficient nutrition for the plants. If you need to amend the soil further, you may add bone meal with the compost (5-10 lbs./per 100 row feet). Thin the seedlings once established to 8 inches apart. Keep the planting well weeded. Harvest in midsummer.
Date 2020-01-23
Link to this record only (permalink)
Keywords: Zinnia, Daisies, Verbena, Coreopsis, Artemisia, Salvia, Lavandula, Achillea, Echinacea, Annuals and biennials, Xeriscaping, Tagetes, Sedum, Herbs, Container gardening
Our neighborhood has a small planter area at its entrance. There is no water supply to this area, but a nearby resident is willing to water occasionally. The soil contains much clay. We would like to plant a few drought-tolerant annuals to add color and supplement the more permanent shrubs--such as boxwood--planted in the area. Can you recommend some plant choices? How could we amend the soil to best hold water during the upcoming dry months? Would a commercial product such as "Quench" be of any value, in addition to organic mulches?
Answer:
I found the following article by Nikki Phipps on GardeningKnowHow.com about drought-tolerant container planting. Here is an excerpt:
"...many plants not only thrive in containers but will tolerate hot, dry conditions as well. Some of these include annuals like marigolds, zinnias, salvia, verbenas, and a variety of daisies. Numerous perennials can be used in a xeriscape container garden such as Artemisia, sedum, lavender, coreopsis, Shasta daisy, liatris, yarrow, coneflower and more. There is even room for herbs and vegetables in the xeriscape container garden. Try growing oregano, sage, rosemary, and thyme. Vegetables actually do quite well in containers, especially the dwarf or bush varieties. There are also numerous ornamental grasses and succulents that perform nicely in containers as well."
This Brooklyn Botanic Garden's 2001 article provides a list of drought-tolerant plants for containers.
I had not heard of Quench, but since it is cornstarch-based, it is certainly preferable to the hydrogel and polymer products which are more widely available. I found an article by garden writer Ann Lovejoy in the Seattle P-I (June 3, 2006) about Quench. Here is an excerpt:
With pots and containers, mix dry Quench into the top 12 inches of potting soil in each pot and top off with plain compost. Few roots will penetrate deeper than a foot, so it isn't very useful down in the depths of really big pots unless you are combining shrubs and perennials.
I would not recommend hydrogels or polymers as a soil amendment. Professor Linda Chalker-Scott of Washington State University has written about these products and their potential hazards. Here is a link to a PDF.
You could consider applying a liquid fertilizer (diluted seaweed-fish emulsion would work) to your containers once every week or two during summer. Here is an excerpt on some general information on container maintenance, from a no longer available Ohio State University Extension article. Excerpt:
"Once planted, watering will be your most frequent maintenance chore, especially if you are growing plants in clay containers. On hot, sunny days small containers may need watering twice. Water completely so that water drains through the drainage hole and runs off. Water early in the day.
"If you incorporated a slow release fertilizer into the potting mix, you may not need to fertilize the rest of the season; some of these fertilizers last up to nine months. You can also use a water-soluble fertilizer and apply it according to the label directions during the season.
"Mulch can be applied over the container mix to conserve moisture and moderate summer temperatures. Apply about one inch deep.
"Depending on the plants you are growing, you will need to deadhead and prune as needed through the season. Monitor frequently for pests such as spider mites. Pests usually build up rapidly in containers."
Date 2019-09-19
Link to this record only (permalink)
Keywords: Juglans, Compost, Allelopathy
Will black walnut leaves cause compost to be allelopathic? Should they be kept out of compost? Or is this folklore? The specific compost is made with chicken manure (fresh), grass clippings and walnut leaves. Are there plants that tolerate the toxin in black walnut?
Answer:
It seems that the main source of toxicity is the roots of the walnut tree, rather than the leaves or shells. However, there are still those who believe that there is enough juglone in the leaves that they should be fully composted before use in the garden. Below are excerpts from information published online in various university extension websites, by various authors, and now unavailable:
"This toxic affect on surrounding plants appears to be related to root contact, as walnut hulls and leaves used as mulch have not shown toxic effects on plant growth. [Warning- Frank Robinson disagrees.] Because Walnut roots do not occupy the surface layers in most soil, many shallow rooted plants growing under walnut trees don't come in contact with the roots and are not affected by them." [Michigan State University]
"You've probably always heard that you should never add black walnut sawdust [or wood chips] to the compost pile because the juglone will kill everything that grows in the compost. Abraham says that's not necessarily true; that juglone is not found in walnut saw dust or wood chips. Nor do dead walnut trees exude juglone. Juglone is harmless to humans so you can go right ahead and safely eat fruit and vegetables grown near walnuts."[Katy Abraham]
"Robinson doesn't agree on the use of walnut residue in composting. He has this to say about black walnut saw dust, husks and leaves affecting plants. 'Tomatoes growing in clean soil in pots were severely stunted when leaves and nuts fell into the pots while we were on vacation. I know what juglone can do. I have seen a 15-year-old rhododendron killed a few weeks after its owner mulched it with black-walnut husks, and roses injured by an application of compost containing black-walnut sawdust.'" [Robinson]
"The juglone toxin occurs in the leaves, bark, and wood of the walnut but these contain lower concentrations than the roots. Juglone is poorly soluble in water and does not move very far in the soil. Walnut leaves can be composted because the toxin breaks down when exposed to air, water and bacteria. The toxic effect can be degraded in two to four weeks. In soil, breakdown may take up to two months. Black walnut leaves may be composted separately, and the finished compost tested for toxicity by planting tomato seedlings in it. Sawdust mulch, fresh sawdust or chips from street trees prunings are not suggested for plants sensitive to juglone, such as blueberry. However, composting of bark for a minimum of six months provides a safe mulch even for plants sensitive to juglone." [Ohio State University]
"To be on the safe side, composted material containing juglone should be allowed to breakdown over a period of time before use. This composted material can be used with plants that are not susceptible to juglone damage. If it is important to use it for general composting purposes, testing it first with a few tomato plants for a few weeks should reveal its level of toxicity." [Abraham]
This may also be of interest: The Walnut Tree: Allelopathic Effects and Tolerant Plants from the Virginia Cooperative Extension.
Frank Robinson's article "Under the Black Walnut Tree," Horticulture magazine, October 1986, pp. 30-33 concludes that many plants are indeed able to tolerate juglone's toxicity. Some of the juglone-tolerant plants listed in the article and in other sources are included on Morton Arboretum website.
Date 2019-09-18
Link to this record only (permalink)
Keywords: Vegetable gardening, Container gardening
My question is about the ceramic pots that you see in nurseries and places in the area. The pots are glazed on the outside, and unglazed on the inside, and they are made in China and Vietnam. Are these pots safe for planting vegetables and herbs? Or, are there materials in the interiors of the pots that could leach into the soil and make the vegetables and herbs unsafe to eat?
Answer:
Some ceramic glazes do contain toxic materials, such as lead and cadmium. Washington State Department of Health has information on preventing lead poisoning, and on testing for lead.
State of Oregon's Lead Poisoning Prevention Program includes information on sources of lead exposure, including pottery.
California Department of Health has several pages on toxins in pottery.
Excerpt:
"The U.S. Food and Drug Administration (FDA) sets standards at the national level for the amount of lead that can pass out of, or 'leach,' from dishes. Tableware with lead levels greater than these standards cannot legally be sold in the U.S. The FDA regulations cover only tableware that is imported or that is brought into the state for sale. The standards apply only to items that are used for foods and beverages. They do not apply to pieces that either cannot hold liquids or are not intended to hold liquids, such as salt shakers, cookie jars, butter dishes, etc. See the table below for the FDA standards for lead in ceramicware.
Decorative ceramics
The FDA has labeling rules for ornamental or decorative ceramics that are not intended for food use. These items must either (1) be permanently labeled with a logo or statement that they are unsuitable for food use, or (2) be made incapable of holding liquid. If an item is clearly intended for food use, such as a bean pot, labeling it is not sufficient, however. It must be made unusable, for example, by having a hole drilled through any surface that could hold liquid."
My co-worker tells me that some retail stores are good about informing customers if pots are unsafe for food use. This document from Clemson University Extension (although its focus is cookware) suggests that you not use pottery which does not bear the label, "Safe for Food Use:"
If a pot has been fired at a high temperature (something you cannot easily ascertain by looking at it), my thought would be that there would be less likelihood of toxic material from the glaze leaching inward, but if the clay itself comes from a source which is full of contaminants, there may be a risk apart from the glaze. If you are at all concerned about using these pots for growing food, my advice would be not to do it. There are other ways of growing food in containers, such as untreated wood boxes or barrels. See links here for general information on growing vegetables in containers:
Vegetable Gardening in Containers from Virginia Cooperative Extension.
Plants Grown in Containers from North Carolina State University.
Date 2020-01-18
Link to this record only (permalink)
Keywords: Solanum tuberosum, Vegetable varieties, Vegetable gardening
I would like to plant a second crop of potatoes in July. Could I use potatoes dug from my first crop this year or should I try to find seed potatoes?
Answer:
You can plant mid-season and late potatoes this month, but there are particular varieties that are best suited to planting at this time. This is one reason not to plant the potatoes you just dug (which are an earlier variety).
Here are links to additional information:
From the University of Illinois Extension.
Growing Potatoes in the Home Garden from UC Santa Cruz.
Steve Solomon's Growing Vegetables West of the Cascades (Sasquatch Books, 2000) says that because of the large number of viruses which can affect potatoes, you should not carry over your seed (replant). It is safest to use certified virus-free planting seed. He says that your crop might be fine the first time you replant your own potatoes, but they will become increasingly susceptible to viruses.
Date 2019-08-02
Link to this record only (permalink)
Keywords: soil contamination, Container gardening
Is it safe to use galvanized containers (in this case a large galvanized tub like the kind used for watering livestock) in which to grow root vegetables, herbs, etc? I've seen some sites sell these for this use, but there are also some postings referring to the potential for ill effects of anti-rust coatings.
Answer:
You may want to consider both what goes into the galvanizing process, and what could be leaching out of containers as the coating wears down over time.
Here is information on the process of galvanizing from the American Galvanizers Association. Excerpt:

"What are the steps in the galvanizing process?"

Pre-inspection - where the fabricated structural steel is viewed to ensure it has, if necessary, the proper venting and draining holes, bracing, and overall design characteristics necessary to yield a quality galvanized coating
Cleaning - steel is immersed in a caustic solution to remove organic material such as grease and dirt, followed by dipping in an acid bath (hydrochloric or sulfuric) to remove mill scale and rust, and finally lowered into a bath of flux that promotes zinc & steel reaction and retards further oxidation of the steel... (steel will not react with zinc unless it is perfectly clean).
Galvanizing - the clean steel is lowered into a kettle containing 850 F molten zinc where the steel and zinc metallurgically react to form three zinc-iron intermetallic layers and one pure zinc layer
Based on the above, one concern would be whether the zinc would be harmful. Zinc is one of many nutrients needed by plants, but I couldn't hazard a guess as to what effect the zinc from the coated steel would have, if any, or whether the galvanizing process involves other substances.
The book The Edible Container Garden by Michael Guerra (Fireside, 2000) says the following:
"Galvanized buckets are increasingly popular but don't use them for ericaceous or acid composts." (This would be a compost which is lime-free. Usually soils in the Pacific Northwest tend to be acidic. I don't know from your message what part of the country you live in, but this might be something to consider as well).
Another issue is that the metal containers will probably heat up quickly, meaning that your plants might need more attentive watering.
Los Angeles County Cooperative Extension offers the following information, in an article on trace elements and urban gardens. Excerpt:
"Cadmium is a contaminant of many manufactured products containing zinc. Any zinc plating or galvanizing operations and galvanized metal containers sometimes used in horticulture and gardening operations are potential sources of cadmium."
I certainly don't think you want to grow vegetables in a cadmium-laced container. In situations where there is any doubt about safety, I would recommend growing ornamental plants in the tubs, and growing edibles in untreated wood or clay pots.
Date 2020-03-27
Link to this record only (permalink)
Keywords: Cucurbita, Square foot gardening, Rubus, Vegetable gardening
We've bought some butternut squash starts, and from what I've read online, they require a lot of space. This will be my first time growing them. We have 4' x 6' x 1' raised beds, and I'm wondering if one bed will be big enough to plant 1 butternut squash start. Also, I've read that they require staking? Is this true? What should we do with the other 2 starts that we got if we don't have room for them in our raised beds? Try planting them directly into the ground? I'd hate to throw them out...
We also bought a raspberry plant, and I've read that they should have 14-18" for their roots. Again, our raised beds are only 1 foot deep. Would we be better off digging a hole in the ground?
Answer:
There is conflicting information in different sources about the amount of space butternut squash needs. Most sources say (as Seattle Tilth's Maritime Northwest Garden Guide does) the gardener should allow 18-24 inches between plants, which would mean you could plant all 6 starts in one 4' by 6' raised bed. Steve Solomon, however, says in Growing Vegetables West of the Cascades that winter squashes require much more space, so that you could only plant two in your 4' by 6' bed.
Staking winter squash can be done to save space. There is a pretty good description of how to do it in Mel Bartholomew's book, Square Foot Gardening. Basically, the vines are planted 4 feet apart in a trench prepared with "large-mesh wire fencing" on 6-foot posts, and twined through the fencing as they grow. He says the stems are strong enough to support the heavy squashes. The technique is also mentioned in Vegetables, Herbs & Fruit: An Illustrated Encyclopedia by Matthew Biggs, Jekka McVicar, and Bob Flowerdew.
As for your raspberry, it will grow faster and better with deep, rich soil. However, raspberries have a tendency to spread by underground runners, so it is often a good idea to contain them in some way. Depending on what is under your raised beds (i.e., soil, sand, concrete) you may wish to plant them there despite the shallow depth, or dig/mound up within the raised bed to improve the soil depth, or plant the raspberry elsewhere.
Date 2019-09-27
Link to this record only (permalink)
Keywords: Vegetable gardening, Shade gardening
I have set up four-by-eight-foot raised vegetable beds in the only available spot in my backyard (here in the Pacific Northwest). In winter, the house casts its shadow over the entire bed area. With the progress of the seasons, the shadow recedes and leaves the beds entirely in the sun only by approximately mid-May. Similarly, the house shadow again begins to encroach on the bed area by the beginning of August.
What can I grow with this ultrashort growing season? What vegetables, if any, are likely to succeed here?
Answer:
It sounds like you have about 75 days of well-lit growing season. The Maritime Northwest Garden Guide by Lisa Taylor (Seattle, WA: Seattle Tilth, 2014) lists several varieties of vegetables come to harvest within 75 days in our area, and here's what I see:
carrots
swiss chard
cress
kohlrabi
lamb's quarters
lettuce (if picked young)
arugula
spinach
summer squash
turnips
purslane
shungiku (edible chrysanthemum)
swiss chard
kale
tatsoi
bok choi/pac choi
In 10 Terrific Vegetables, produced by the National Gardening Association, the author suggests that vegetable gardens require at least 6 hours of sun per day (South Burlington, Vt. : National Gardening Association, 2002). Some fast-maturing vegetable varieties listed include 'Green Comet' Broccoli (40 days) 'Packman' broccoli (53 days), Kentucky Wonder beans (60 days), Romano beans (75 days), basil (70 days), 'Amsterdam' and 'Nantes' carrots (60 days), 'Sugarsnap' peas (62 days--and they should be planted earlier, before the soil warms), 'North Star' red pepper (60 days), 'Melody,' 'Space,' 'Tyee,' and 'Bloomsdale Longstanding' spinach (all under 45 days), 'Sun Gold' tomato (57 days).
In general, you can find the number of days to maturity listed on the back of seed packets, so you can check if the varieties you want will ripen in time. Another quick-harvest vegetable is the radish, which can be ready to eat in just a few weeks. I've also had some luck with potatoes in less-sunny locations, although they do take a fair amount of space.
You might also consider growing raspberries, which don't need sun quite as much as vegetables, in one of your beds.
Date 2019-10-10
Link to this record only (permalink)
Keywords: Brassicaceae (Mustard/Cress family)
I planted Broccoli raab seeds early this spring. They came up just fine, but they more or less bolted immediately. What happened to cause this?
Answer:
Broccoli raab, Rapini, or Brassica rapa, Ruvo group, resembles turnip greens more than it does the more familiar head-forming Broccoli. It has a tendency to bolt (form flowers and go to seed) when temperatures are too low or too high. Sometimes cole crops bolt when they have been exposed to seesawing temperatures, but they may also bolt in reaction to other stresses, such as insufficient nutrients (like nitrogen), or competition from weeds. The following information from Clemson University Extension refers to Chinese vegetables, but it provides useful tips on growing cole crops, such as:
Bolting can be prevented by:
Maintaining a steady, moderate rate of growth.
Setting out young, healthy transplants that have not been stressed.
Watering well when transplanting to start root growth and remove air pockets from the soil.
Planting at the correct time for your area.
Growing slow-bolting varieties.
Although you were probably hoping for green unopened flower buds, the flower shoots, stems and leaves are also edible. Try sowing through early fall, and provide the optimum water and soil conditions. North Carolina State University Extension has additional information about this plant.
Date 2019-06-12
Link to this record only (permalink)
Keywords: Foeniculum vulgare v. azoricum, Foeniculum vulgare
I have tried to grow fennel and cannot get it to bulb. I've tried growing it in several different locations, and I only get stems and tops. Do you have any suggestions?
Answer:
You probably know that there are two kinds of fennel. Common or bronze fennel (Foeniculum vulgare), which is 3-5 feet tall with a tough stalk and looks a bit like dill, does not form bulbs. It is also listed as a non-regulated noxious weed in King County. The one you need is Florence, or bulbing, fennel Foeniculum vulgare v. azoricum, which is less than 2 feet high with a white stalk that thickens at the bottom to form a bulb-shaped vegetable.
Assuming you are planting the Florence fennel type, here is some basic information about growing it: it needs full sun and moderate water. According to Vegetables, Herbs, and Fruit by Matthew Biggs et al., it should be planted in the ground half an inch deep in late spring to late summer. It needs warm weather and will bolt (not form much bulb and get spindly) if the weather is too cold, too dry, or if it gets transplanted. "Plants need a sunny, warm, sheltered position and well-drained, moisture-retentive, slightly alkaline soil. A light, sandy soil with well-rotted organic matter dug in the winter before planting is ideal. Stony soils and heavy clays should be avoided. Never allow the soil to dry out: mulch in spring and hand weed around bulbs to avoid damage. When the stem bases start to swell, earth up to half their height to blanch and sweeten the bulbs."
Date 2019-12-27
Link to this record only (permalink)
Keywords: Parking strips, Urban horticulture, Vegetable gardening
I want to plant my parking strip for a vegetable garden. Do I need a permit from the city? And if so where do I get a permit?
Answer:
You do not need a Street Use permit for gardening activities in the planting strip. Here are the City of Seattle's current guidelines for parking strip gardening.
Linden Mead, a Seattle Department of Transportation arborist, addresses one of the concerns I would have about planting edible crops next to a street:
"Although the list may not be exhaustive, and gardeners are encouraged to be creative, they do need to follow some parameters. Plants grown within the area equal to or less than 30 feet from an intersection may not exceed 24" (2 feet) in height at maturity. This is so that visibility is adequately maintained (cars and pedestrians visible to each other). When a planting strip is 5 feet wide or less, plants may not exceed 36" (3 feet) in height at maturity. This is to help assure pedestrian safety/visibility as well as to maintain pedestrian walkways and the roadway clear of overgrowth which may impede travel on the right-of-way. With wider strips, it is possible to put in scattered, taller plants, if planted in the middle of the strip.
"There are also regulations about 'hardscape' - which may include planting beds in the strip. Raised beds may be constructed from timber but rocks or bricks that are easily moved (read here 'picked up and thrown') are not allowed. Permits are also required to plant, prune or remove trees."
Seattle Department of Transportation has specific information about growing food in the planting or parking strip. There are some concerns as well as a few restrictions, described here:
"SDOT prohibits fruit trees because of the slipping hazard for pedestrians from fallen fruit. For some residents, it's their only sunny area to grow vegetables. But the planting strip is a public space, part of the public right-of-way, so it's hard to control what pets or people do there. It can be harder to reach with water, and there may be concerns with the soil." It is also a good idea to test the soil for contaminants before planting edible crops.
Date 2019-05-17
Link to this record only (permalink)
Keywords: Green roofs (Gardening), Vegetable gardening, Container gardening
I'd like to plant a vegetable garden on my roof. It will be in a feed trough about 8 feet long, and 2 feet wide and deep. I'm wondering what I can add to lessen the weight of the container (so it won't just be filled with potting soil and compost). Also, any recommendations for which vegetables to grow would be great--things which are fairly easy and don't have enormous roots!
Answer:
To lighten the load of your container, a lightweight organic material like hazelnut shells might make a good bottom layer. You could use perlite, but that may actually be heavier than the nut shells. Here is information about sources of hazelnut shells:
Oregon Hazelnuts (a website of hazelnut growers) (lists several sources)
A Washington State source, often found at local farmers' markets, is Holmquist Hazelnuts.
The book The Edible Container Garden: Growing Fresh Food in Small Spaces by Michael Guerra (Simon & Schuster, 2000) has a section on rooftop containers, and recommends (after you've consulted a structural engineer) using lightweight, well-draining compost, and setting your container(s) on timbers to help with drainage. According to the book, the best candidates for containers are potatoes, chard, lettuce, radishes, shallots, bush tomatoes, eggplant, zucchini, squash, dwarf carrots, dwarf beets, mustard and Asian greens, and runner beans. More difficult are cauliflower, cabbage, Brussels sprouts, kale, parsnips and other deep-rooted vegetables.
The following links may be of interest:
University of Maryland Cooperative Extension
Vegetated Roofs from Oregon State University Extension
Article about the Reading International Roof Garden (Britain) from The Guardian by Emma Cooper (and another article by this author in Permaculture Magazine #53).
Date 2019-08-07
Link to this record only (permalink)
Keywords: Vegetable gardening, Allium
How far apart should I plant my shallot starts?
Answer:
According to Steve Solomon's Growing Vegetables West of the Cascades (Sasquatch Books, 2007), plant them 3 to 4 inches apart in rows 18 inches apart. Other sources suggest you can make the rows as close together as 12 inches, and the plants as far apart as 6 inches.
Ontario Ministry of Agriculture has a useful page about shallots which recommends 4 to 6 inches between plants.
Date 2019-12-27
Link to this record only (permalink)
Keywords: Pisum
I wonder why I've never known anyone who grows peas in the fall. I am an experienced gardener and have specialized in fall/winter vegetables. I am guessing the soil temperatures in the summer aren't "friendly" to peas. I have some shelling pea seed that I think I'll try, but wondered if you can find any information that will indicate how to be successful.
Answer:
Your guess is a good one. Here is what Binda Colebrook says in Winter Gardening in the Maritime Northwest (Timber Press, 1998):
"It is theoretically possible to make a July sowing of peas and get a fall crop just before the fall frosts. The problem is that it is hard to keep these moisture-loving, cool-weather plants going through the rigors of the hottest part of summer. Even if you do manage this, there is a virus in the Northwest, called pea enation, that will cripple most varieties."
Colebrook recommends seeking an enation-resistant variety, but further states that, having tried some of these resistant types, "so far I'd say it isn't worth the trouble."
Washington State University Extension doesn't go into the specifics but you can read between the lines that a summer sowing will not result in a bumper crop of peas:
"Peas can be planted in early November for an early June crop. They may not make it every winter. Green peas and edible pod peas (sugar peas) can be planted until mid-July. A moderate harvest can be expected in fall."
Note Westside Gardener's blog post mention of the Alderman variety of shelling peas:
"The bad thing about older varieties of peas is they don't have the disease resistance of newer types. Up here in the Maritime Pacific Northwest, two diseases seem to cause the most problems for pea growers. The first is powdery mildew, a non-specific fungus that we're all familiar with. Powdery mildew often isn't a killer though, and it can be controlled when necessary with wettable sulfur. A worse disease is Pea Enation Mosaic, which does kill non-resistant varieties. Enation is a virus which is spread by the Green Peach aphid, so controlling ranges from difficult to impossible (it only takes one aphid to infect a plant). Usually what happens is the weather warms up, and the aphids become active. Often this coincides with the peas starting to set pods heavily. When a plant becomes infected, it's pods become warty-looking and rather woody. Soon after, the plants die. It can be very disappointing to have your plants all dry up just as you're looking forward to harvest. As far as I know, there is no practical way to control enation. All of my favorite varieties, of course, are susceptible to Enation Mosaic.
When it comes to shelling peas, I still haven't found anything to beat Alderman [...] Some years I get a good harvest, while other years the vines are wiped out by Enation. The flavor is so good, though, that I find the gamble worthwhile. I am trying out a new pea this year, which is somewhat earlier than Alderman - Maxigolt [...] Earlier maturity means it should yield more in those years enation strikes, but flavor will determine whether it unseats Alderman from its place in my garden."
Date 2019-07-19
Link to this record only (permalink)
Keywords: Rubus
We are expanding our vegetable garden, and I wanted to put in a row of raspberries (hardly vegetables but you get the idea). My wife is against it because raspberries spread so many underground roots and sap the energy of the rest of the soil and interfere with other plants. I'm sure she's right. What do gardeners do to stop the spread of raspberries?
Answer:
To keep the raspberries from infiltrating the vegetable bed, you could install a root barrier such as gardeners use to contain bamboo. Even more simply, you could set the planting area apart from the veggies with fairly deep edging material--such as one might use to keep grass from invading garden beds. I'm sensitive to proposing something that is a lot of work, but you could make a dedicated raised bed for raspberries along the edge of the vegetable bed. I'm a fairly lazy gardener, and I planted raspberries amongst all my other plants. When the berries run to areas where they are unwanted, I just pull them out. But you will get a better, easier to harvest crop if you provide them with their own area. This Fine Gardening article addresses the issue of running, as well as ideal planting conditions:
Excerpts:
"Raspberries are joyfully exuberant about procreating by underground runners, poking up impressive numbers of healthy new plants all around your original patch. I don't consider this to be a problem, though, because one whack of the hoe takes care of them. You can also present them to a friend or use them to extend your patch. [...] If you have rich, deep soil that drains well year-round, you can simply plant your raspberries in a permanent garden site. Not us. The Pacific Northwest gets rain all winter, and many gardeners lose raspberries to root rot because they make the mistake of planting their raspberries' fussy little toes directly in the ground, which is often soggy clay covered with a skim of topsoil. We also experience a two-month drought most summers. Raised beds allow us to have deep soil that holds moisture evenly yet drains well."
Date 2019-12-27
Link to this record only (permalink)
Keywords: Seedlings, Plant identification
I have some seedlings coming up in my compost. They smell a bit like basil, but they could just as easily be weeds. I'd like to know if there are resources for identifying plants at this early stage of growth.
Answer:
You could wait a week or two and allow the seedlings to develop, which might make identification a little easier. However, there are various resources online for identifying plants, especially weeds, at the cotyledon (seed leaf) stage.
There are also print resources which illustrate plants at the seedling stage:

Seeds of Woody Plants in North America by James A. and Cheryl G. Young (Dioscorides Press, 1992)
Woody Plant Seed Manual prepared by the Forest Service, USDA (1948), also available online
Seeds: The Ultimate Guide to Growing Vegetables, Herbs & Flowers by Sam Bittman (Bantam Books, 1989)
Park's Success with Seeds by Ann Reilly (Geo. W. Park Seed Co., 1978)
Park's Success with Herbs by Gertrude Foster and Rosemary Louden (Geo. W. Park Seed Co., 1980)
Weeds of the West edited by Tom Whitson (Western Society of Weed Science, 2000)
Weeds of California and Other Western States by Joseph DiTomaso and Evelyn Healy (University of California, 2007)
Date 2019-12-27
Link to this record only (permalink)
Keywords: Bergera koenigii
I need step-by-step detailed instructions on how to grow Murraya koenigii, a tropical Southeast Asian herbal plant.
Answer:
Murraya koenigii now goes by the name Bergera koenigii, but older resources still refer to it as Murraya.
According to an article by Jekka McVicar in
Gardens Illustrated
, no. 132(2007), p. 17,
Murraya koenigii
is a tender shrub or small tree best grown in a container (unless you are in a tropical or subtropical climate). "Use a soil-based potting compost mixed in equal parts with horticultural grit. Place the container in partial shade. Water daily and weekly throughout the growing season. As the plant grows, keep trimming it regularly to maintain a supply of young leaves for cooking. Protect during winter and water sparingly. Reintroduce water and feed as soon as the light levels and temperatures increase in the spring and move the plant to a warm light place."
If you wish to propagate it from seed, "sow fresh ripe seed in autumn into modules using a seed compost mixed in equal parts with perlite. Cover seeds with perlite and pit in a warm place or propagator at 20 degrees Celsius [68 Fahrenheit]. Germination is erratic but usually takes two to four months."
If you plan to cook with curry leaf, you can use Murraya leaves fresh, toasted, dried, powdered, or frozen. Gernot Katzer's Spice Pages will provide additional information.
For more about the food, medicinal, and ornamental uses of this plant, see Susanna Lyle's Discovering Vegetables, Herbs & Spices (Csiro Publishing, 2009). As with the article cited above, she suggests growing Murraya in a container which can be protected over the winter in colder climates. It can be trimmed to size (and is occasionally used as a hedge in warmer climates), has fragrant flowers, and attractive edible fruit.
Date 2019-10-31
Link to this record only (permalink)
Keywords: Ipomoea batatas, Dioscorea, Botanical nomenclature
What is the difference between yams and sweet potatoes?
Answer:
According to Elizabeth Schneider's Vegetables from Amaranth to Zucchini (William Morrow, 2001), the orange vegetable that many of us commonly call a yam is in actuality a type of sweet potato (Ipomoea batatas). So is the ivory-fleshed version (also known as Korean, Oriental, or Japanese sweet potato), and so is the boniato-type (a larger sweet potato with fragrant flesh that bakes up dry and fluffy). All sweet potatoes originated in the New World, though many are now grown and used back in Europe and Asia as well.
The true yam has many varieties, all of which originate in the Old World, but which may also be grown and sold here now, particularly in specialty markets. All of the true yams belong to the species Dioscorea, which has 60 edible species (10 of them widely grown). Few of them are sweet; none are as sweet as the orange vegetable we picture with marshmallows at family feasts in the US. Here is a sampling of some true yam types:

White yam (Dioscorea alata), ñame blanco --"sweet, delicate, mild"
Purple yam (also Dioscorea alata), ube, ratala, or kand -- "gently sweet, with a touch of smokiness, meatiness, and nuttiness"
Cushcush yam (Dioscorea trifida), mapuey, yampi, or igname couche-couche -- "dry, fluffy, and starchy"
African white yam (Dioscorea rotundata), Guinea yam, Ghana yam, fufu yam -- "5 pounds" "potato-like"
Chinese yam (Dioscorea esculenta), lesser yam, ñame papa "like a fibrous russet"
The following link may also be of interest. Library of Congress explains the confusion between these two types of tubers.
Date 2020-01-31
Link to this record only (permalink)
Keywords: Mulching
Last fall, I raked up my fallen cherry tree leaves, and put them in my vegetable garden bed to use as leaf mulch. I don't know what our cherry tree species is, except that it appears to be ornamental. Then I covered the leaves with burlap coffee bags to winterize the garden bed.
I've recently heard that cherry tree foliage and twigs release cyanide when they wilt and decompose. Does this mean that there is cyanide in my garden soil? And if so, will the cyanide be transferred to any vegetables that grow in it? Safe, or unsafe?
Answer:
A general rule of thumb with fruit trees (in case your cherry is an edible cherry variety) is to gather up fallen leaves under fruiting trees and remove them for good garden hygiene (preventing the spread of disease and any unwanted insects). Provided your cherry is healthy, I don't think the leaves would pose a serious problem if used as leaf mulch on top of the vegetable garden beds.
The leathery evergreen leaves of English laurel (Prunus laurocerasus, same family as deciduous cherries and plums) are not a good choice for the compost pile because they take a very long time to decompose (which is not the case with deciduous cherry), and they contain cyanide compounds. However, so do apples, plums, almonds, peaches, apricots--all have some cyanide in them.
This link briefly mentions the question of cherry leaves and cyanide in terms of toxicity to animals. Fresh new leaves have a higher concentration of hydrogen cyanide; toxic potential is gone when the leaves turn brown. True enough, this is about eating the leaves, not letting them sit on the soil, but I imagine the concentration would be very low, and there are all sorts of things in our soil that in small doses are not likely to cause harm, and may or may not even be taken up into the roots of anything you plant there.
I asked Washington State University Extension Horticulture professor Linda Chalker-Scott what she thought about the safety of using those leaves and twigs on your vegetable bed, and she said, "Cyanide does not persist in soils. It is HCN [Hydrogen cyanide], which is quickly broken down by microbes in search of nitrogen. It is really nothing to worry about.
Date 2019-12-07
Link to this record only (permalink)
Keywords: Vegetable gardening, Nuts, Fruit--Care and maintenance, Edible landscaping
Here is a short list of good books for both the arm-chair kitchen gardener and for those who like to get their hands dirty:
The New Kitchen Garden by Anna Pavord (Dorling Kindersley, $29.95) has lots of photos and diagrams with well organized, concise text.
Vegetables from Amaranth to Zucchini: The Essential Reference by Elizabeth Schneider (William Morrow, $60.00) has "500 recipes and 275 photographs" focusing on the history of vegetables and how to use them in the kitchen. It has no growing information, however.
The Complete Book of Edible Landscaping by Rosalind Creasy (Sierra Club Books, $25.00) introduces the idea of planting fruits and vegetables all around the garden.
Designing and Maintaining Your Edible Landscape Naturally by Robert Kourik (Metamorphic Press, available used online and at the Miller Library) is a classic resource thick with practical details on everything from energy-conserving landscaping and soil preparation to drip irrigation for fruit trees.
How to Grow More Vegetables: And Fruits, Nuts, Berries, Grains and Other Crops Than You Ever Thought Possible on Less Land Than You Can Imagine by John Jeavons (Ten Speed Press, $17.95) is an old classic which has just been revised and reissued.
The Cook and the Gardener: a Year of Recipes and Writings from the French Country-side by Amanda Hesser (W.W. Norton, $32.50) is a delightful book divided into seasons with diary-like entries about living, gardening and cooking on a French farm.
Date: 2007-04-03
Link to this record (permalink)
Keywords: Biofumigation, Quercus alba, Malus sylvestris, Verticillium, Ginkgo biloba, Liquidambar, Katsura, Fraxinus, Pseudotsuga menziesii, Malus domestica
Don't despair if verticillium wilt lives in your garden's soil because there are many resistant plants. A few verticillium-resistant trees include Apple and Crabapple, Mountain Ash, Ginkgo, Sweet Gum, Katsura, Douglas Fir, Arborvitae and White Oak. A long list of susceptible and resistant trees, shrubs, perennials and vegetables.
There is some evidence that broccoli (chopped up new shoots worked into the soil) can act as a soil fumigant, if added to the soil before planting. Studies were done by Krishna Subbarao at University of California, Davis, and showed reduced incidence of wilt in cauliflower crops where broccoli had been planted and its residue added to the soil.
Date: 2007-05-23
Link to this record (permalink)
Keywords: Vegetable gardening, Planting, Almanacs
To find out which days in the lunar month are most favorable for planting root crops turn to the
Old Farmer's Almanac
online at
www.almanac.com
The website is a condensed version of the printed edition with all the weather information a gardener could ever want, plus folksy gardening tips, frost dates and a manure guide. Check out the Growing Vegetables Chart to determine when to start seeds indoors or in the ground, when to fertilize and when to water through the growing season.
Date: 2007-04-03
Link to this record (permalink)
Keywords: Anemone, Plants and history, Ethnobotany, Cyclamen
Cyclamen start blooming in the fall. Diana Wells, in her book 100 Flowers and How They Got Their Names (Algonquin Books, 1997) reports that Cyclamen's common name is "sowbread" because they were supposedly used to feed pigs. The name cyclamen comes from the Greek "kyklo" meaning circle and probably referring to the seed stalks that curl up to a tight coil as they ripen.
Wells writes about another autumn flower, Japanese anemones. Plant hunter Robert Fortune sent seeds of the plant to England in 1844. He noted these white flowering perennials were often growing on graves in China and remarked Anemone "[a] most appropriate ornament for the last resting places of the dead."
A few other fun books on the lore and history of plants are Cornucopia the Lore of Fruits and Vegetables by Annie Lise Roberts (Knickerbocker, 1998) with colorful photos and recipes and the classic Who named the Daisy, Who named the Rose by Mary Durant (Dodd, Mead & Co., 1976) that gives a folk history of American wildflowers.
Date: 2007-04-03
Link to this record (permalink)
Keywords: Farmers' markets, Fruit
When summer arrives we know the fruit harvest is upon us. To find out where to go for "U-Pick" fruit and vegetables go online to the Puget Sound Area Farm and Crop Finder
Date: 2007-02-20
Link to this record (permalink)
Keywords: Cucumis sativus, Harvesting time, Beans, Cooking, Vegetable harvesting
Keep harvesting all those beans, zucchini, cucumbers and other summer vegetables to keep the production going. Any fruit left to mature on the plant will cause flowering to slow and reduce the harvest. If you can't keep up with your bean plants why not try pickling? Here are some Web resources that give explicit safety instructions and recipes:
Date: 2007-04-03
Link to this record (permalink)
Keywords: Vegetable gardening, Vegetable harvesting
If your cucumbers or broccoli have started turning yellow they are probably over ripe, and should be sent straight to the compost pile. To find out exactly when your home grown fruits and vegetables are at their peak check out these two detailed harvesting guides:
Picking Fruits and Vegetables by WSU
When to Harvest Vegetables by Georgia Extension
Date: 2007-05-17
Link to this record (permalink)
Keywords: Vegetable gardening
Just as the spring planted vegetables are starting to really take off we're told we must start planning for the fall garden. The problem is where to fit all these new starts. The answer is inter-cropping! For example, sow deep-rooted carrots with shallow rooted beans. Read more suggestions from Texas A & M.
Date: 2007-05-17
Link to this record (permalink)
Keywords: Vegetable gardening
After your first summer water bill arrives, you might want to reconsider what plants you reward with this precious commodity. Give newly planted trees and shrubs first priority because your investment in water now will pay off for years to come. Next in line should be the vegetables, but some are thirstier than others. Don't withhold water from cucumbers, celery or squash, or you may be disappointed with yield and flavor. Here is watering guidance for growing vegetables and a vegetable by vegetable guide.
Date: 2007-05-17
Link to this record (permalink)
Keywords: Ocimum
If you jumped the gun and planted your basil too early in the season, it may have been stunted by cold evening temperatures. Don't despair, you can still have enough basil to make all the pesto you want by buying and planting 4 inch sized starts in late June or July. Basil wants more water than drought loving Mediterranean herbs, so plant it with your vegetables or annuals instead. Read more about Herb of the Year for 2003.
Date: 2007-05-17
Link to this record (permalink)
Keywords: Vegetable gardening, Fruit--Care and maintenance, Chickens
Kitchen Garden
from Great Britain is the only magazine devoted to growing fruits and vegetables. The glossy monthly magazine includes growing tips from readers, articles on growing techniques and new cultivars, plus a monthly feature on small-scale chicken rearing. Subscribe for a mere $55.00 dollars a year
at their website,
or read it for free at the Miller Library.
Date: 2003-03-05
Link to this record (permalink)
Mulch: what is it, why use it, what kind should be used? If you have ever wondered about these questions then read MULCH IT! The author describes the pros and cons of all the various types of mulch imaginable from bark to oyster shells and poultry litter, and how to use mulch around flowers, fruits and vegetables.
Date: 2002-06-19
Link to this record (permalink)
Keywords: Reference books, Horticulture--Washington, Washington State University Cooperative Extension
Wondering what to plant at your cabin in Cle Elum? Or perhaps something to give your cousin who's just moved to Spokane? A new series of booklets on gardening in the Inland Northwest gives a perspective not found in the many titles written by westsiders. Published by the Washington State University Cooperative Extension, separate volumes cover roses, berries, vegetables, landscape plants, perennials, fruit trees and native plants, each for $12 or less. To order, call the WSU Bulletin office at 1-800-723-1763 or order online
Date: 2007-07-12
Link to this record (permalink)
Keywords: Vegetable gardening, Winter gardening
Believe or not, but when the first cherry tomatoes ripen in July it's time to start planning the fall and winter vegetable garden in the Pacific Northwest. Beets, beans, kale and other cold hardy crops need to be sown in July or August so that they have a few weeks to bulk up before night time temperatures drop after the autumn equinox. The idea is to get the plants to almost harvestable size before the weather really turns cold, and then gardens acts as a kind of refrigerator, keeping the vegetables in stasis until we're ready to eat them. If you miss the seed starting window there is still time to buy transplants from local nurseries until early September.
These two publications from Washington and Oregon State University Extensions have all the details to ensure success.
Date: 2021-08-19
Link to this record (permalink)
Reviewed by: Brian Thompson on 2016-02-26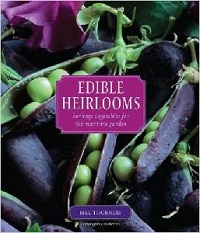 Edible Heirlooms is a great little book! Little only in dimensions and number of pages, as the author carefully defines his purpose and limits his scope, but within those parameters shows you how to grow an outstanding vegetable garden in the maritime Pacific Northwest.
Most important, he sees this endeavor as part of a larger picture. "The challenge for me is to somehow integrate my vegetable-growing practices into a diverse ecosystem and, if possible, enhance biodiversity." The key for this is to use heirloom varieties that can be regrown from collected seeds. Besides the mouth-watering descriptions, you will also get an excellent history lesson.
Link to this review (permalink)
Reviewed by: Jessica Anderson on 2016-02-13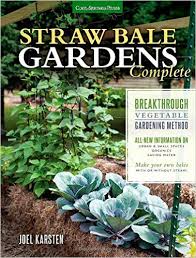 I was surprised to learn that there is a new way to grow vegetables. Inside straw bales. Yes, that is what I said, inside straw. This new book by Joel Karsten, Straw Bale Gardens Complete (Cool Springs Press, 2015), explains a method of growing and harvesting crops which is useful for increasing productivity while reducing labor. The chapters thoroughly cover planning your straw bale garden, and making straw bale greenhouses. There are extensive pages of garden layouts, including single, two, and three-bale gardens with tomato cages, trellises, and suggested plants. This approach to container gardening is using the straw bale itself, held together with two or three strings, with the outside crust of the bale serving as the container. The straw inside the bale will decompose, making it "conditioned" and ready to plant. The author gives step by step instructions for conditioning to create a warm, moist and nutrient rich rooting environment for seedlings. The author points out that straw bale gardens are ideal if you can't do heavy lifting, can't bend over, have poor soil, or limited space.
One thing to keep in mind is the difference between hay and straw, which often are confused. Straw comes from one of the cereal small-grain plants. Most common are oats, wheat, barley, rice, flax and rye. Hay is green, more coarse and wiry than straw. Hay can be baled alfalfa or any dozens of different grasses. Hay is fed to livestock as fodder. It contains all the seed heads inside the bale. But hay is not desirable for bale gardens. The book explains how to find and maintain the best straw for growing plants. If you are looking for a source for straw in the Seattle area, I've been able to supply my chickens with straw from The Grange in the University District. I also recommend using organic straw for vegetable gardening because you will want straw that has not been treated with herbicides or pesticides. Organic bales are usually sold at about the same prices as conventional ones.
Link to this review (permalink)
Reviewed by: Brian Thompson on 2013-01-01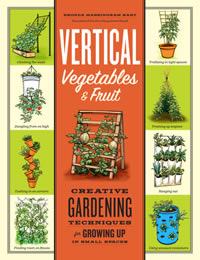 Here is another approach to dealing with limited space: grow up. Vertical Vegetables and Fruit is one of the very few books focused on this technique of food-growing. Some of the featured vegetables and fruits are naturals (beans or kiwi), but many are not. And while the thought of a high-flying watermelon may take a bit of getting used to, the author devotes several pages to slings and other support devices to make this possible. There are many unconventional ideas here to try, including hanging bags and living walls, along with some more familiar espaliers of fruit trees and strawberry pots. The emphasis is on innovation and experimentation--and having fun with your veggies (and fruit)!
Excerpted from the Winter 2013 Arboretum Bulletin.
Link to this review (permalink)
Reviewed by: Brian Thompson on 2013-04-01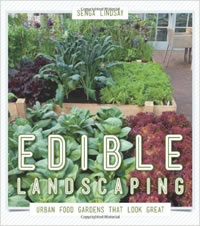 "Edible Landscaping" is not your typical vegetable gardening book. You will not find an A-Z encyclopedic listing of popular vegetables, nor is there much cultural information specific to each crop. Instead, this is a garden design book with an eye to making edible plants the key feature.
Author Senga Lindsay, a landscape designer and gardener in North Vancouver, B.C., challenges and encourages you, the home gardener, to take charge of your garden's appearance and assumes that you don't want your "...yard to look like a 'dog's breakfast'--messy, unkempt and utilitarian." After outlining basic planning steps, she presents fifteen different model gardens, each with detailed plans, lists of needed supplies, and step-by-step procedures for installation.
These plans range from the traditional row garden to green roofs and walls to parking strips. Your garden may need to satisfy a gourmet chef, or accommodate a disabled gardener, or engage young children--all are addressed with the same level of detail. While you can follow one plan to the letter, the elements from the plans can easily be blended as needed.
Excerpted from the Spring 2013 Arboretum Bulletin.
Link to this review (permalink)
Reviewed by: Brian Thompson on 2013-07-01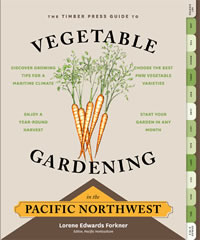 In "The Timber Press Guide to Vegetable Gardening in the Pacific Northwest," Lorene Edwards Forkner gives a whole calendar of ideas of what to plant and what to harvest every month--what's unusual is that the chapter on January, while having fewer pages, is still on equal footing with June, rather than be relegated to an off-season category.
Does year-round engagement with your garden sound daunting? Relax. Further reading encourages a steady but gentle approach--no more herculean "putting in the garden" effort in the spring--instead be strategic and realistic about how much garden you can handle and thankful for the bountiful resources of our region to provide what you leave out.
While this book is packed with information, it will work well for the novice, as Forkner is good with pointers for getting started. "If you are a beginning gardener, I recommend you learn to love your hose. Time spent at the end of it is the best education and the most accurate barometer of your garden's needs." I totally agree.
She also has some interesting ideas for the experienced gardener. She divides her veggies by flavor profiles, and then considers what fits into, for example, "sweet leaves" or "hearty greens." Within each category there are plant options that which will give you a similar taste result, but some are easier to grow, or provide a harvest at different times of the year. This can simplify the planting list enormously.
Excerpted from the Summer 2013 Arboretum Bulletin.
Link to this review (permalink)
Reviewed by: Brian Thompson on 2013-08-14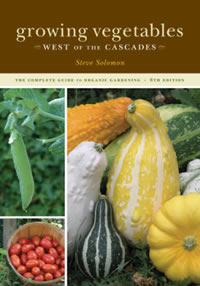 An important contributor to our Pacific Northwest literature has been Steve Solomon, now with his 6th edition of "Growing Vegetables West of the Cascades." Each edition reflects the author's on-going learning in his craft, the major change in this edition concerns the cultivation of asparagus. He now advocates growing these from seed, rather than starting with root crowns.
Link to this review (permalink)
Reviewed by: Brian Thompson on 2009-10-01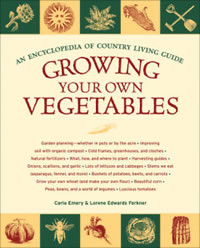 Lorene Edwards Forkner tackled a huge task. She took the 900 plus pages of the late Carla Emery's "The Encyclopedia of Country Living" and distilled out of this sometimes wandering magnum opus (in 10 editions over 35 years) the essentials of vegetable gardening.
The resulting "Growing Your Own Vegetables" is a well organized and very readable work (at a comparatively slim 179 pages) that still captures the enthusiasm and down-to-earth charm of the original. While the authors both have Pacific Northwest roots, this book is written for a general audience, and so the section on okra is best skipped in planning your Seattle P-patch.
That said, there are still lots of useful and practical cultural tips. But I found it most charming in the somewhat quirky side boxes, such as that on Draft Horses and Power Tools: "Pat the animal and let it know you appreciate it after a good hard pull."
Excerpted from the Fall 2009 Arboretum Bulletin.
Link to this review (permalink)
Reviewed by: Rebecca Alexander on 2011-07-26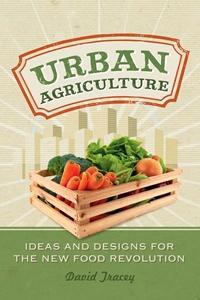 Though I personally am cheered by the sight of a P-Patch, a front garden, or a tiny apartment balcony resplendent with edible plants, there is still resistance to seeing raised beds replete with tomatoes and lettuce overtake a lawn or other underutilized space. Activist and arborist David Tracey's Urban Agriculture: Ideas and Designs for the New Food Revolution opens with an account of conflict over creating a community garden in his native Vancouver, B.C. Despite this negative note, the book is an antidote to despair. Tracey's informal and humorous style diminishes the sense of helplessness we feel in the face of corporate control over our food supply, and its attendant environmental devastation and cost to human health. Tracey does not provide detailed directions on how to grow various vegetables from seed, or how to make your own compost; his purpose is to inspire and empower the reader to begin or continue the worthwhile work of growing food (as opposed to "fuud," the term he coins for the products of Big Ag). You may not think you are engaged in agricultural pursuits but by the author's definition, anyone who grows edible plants is a farmer.
The book is explicitly organized from the smallest to largest scale of edible cultivation (sprouts on the kitchen counter to full-scale farming). There are some unusual inclusions here, such as sections on aquaponics (in case you want to grow fish and greens together!) and school farms, the self-sufficiency model of Cuba's urban farming project, and a checklist of questions to ask politicians before the next election (ask where she or he stands on the use of public space to grow food by raising the concept of usufruct, the legal right to use and enjoy the fruits or profits of something belonging to another). There are numerous quotable lines in this book, such as: "It takes food to grow a village," and "The seed knows what to do." The library also has his previous book, Guerrilla Gardening: A Manualfesto.
Link to this review (permalink)
Reviewed by: Jessica Anderson on 0201-04-26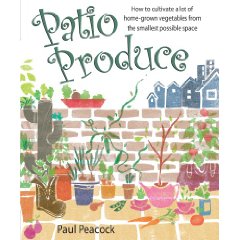 As a first time vegetable gardener, I was looking for a resource for planting and growing vegetables from a small space: my deck. This handy book, Patio Produce: How to Cultivate a Lot of Home-Grown Vegetables from the Smallest Possible Space by Paul Peacock really helped me start my garden. It simply showed me how to make the most out of my pots and how to plan for a reasonable crop yield. I especially enjoyed the chapters on how to grow vegetables on the patio. The author has an A-Z plant list and inside there are detailed step-by-step instructions on how to grow on the patio, including an "at a glance" table that contains helpful information on the plant's pot size, sowing dates, care, and harvest information. The short but thorough snippets on specific plants, such as raspberries, strawberries, potatoes, and tomatoes helped me understand how to plant and take care of my crops.
Link to this review (permalink)
Reviewed by: Brian Thompson on 2013-01-01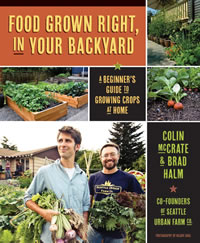 The Seattle based authors of Food Grown Right, in Your Backyard operate a business that gets homeowners started growing their own vegetables (along with herbs, edible flowers, and a few berry fruits) no matter what the challenges may come from inexperience or a difficult site. Colin McCrate and Brad Halm advice is great for beginners, providing a lot of structure and many details while including a teaching element with every entry. For example, by growing radishes you'll learn how to harvest at the right time for the best taste, while planting corn will teach you about wind pollination.
Excerpted from the Winter 2013 Arboretum Bulletin.
Link to this review (permalink)
Reviewed by: Brian Thompson on 2016-07-01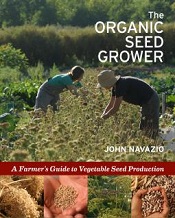 If you are already an avid veggie grower, and especially interested in organically grown, open-pollinated varieties, I recommend you read "The Organic Seed Grower" by John Navazio. This is not a beginner's book, but it will build on the experience you have, especially if you decide to save your own seeds.
This is also one of the best books for learning about the biology of vegetable crops. The encyclopedia section is not in the expected alphabetical order but instead is grouped by families, each with an introduction to the broadly shared characteristics within the family. A detailed natural and cultivated history of each plant is included along with the growth habits and reproduction methods (I didn't realize that so many of our favorite vegetables are biennials) with the emphasis, as the title suggests, on growing some plants on for seeds.
Navazio writes for a national audience but he is a local writer, living in Port Townsend, Washington. Many of the examples and photographs are from the region, including those of small scale farmers you may meet at local farmers markets. Some advice is impractical for home gardeners (it's hard to provide a mile of isolation between squash varieties on an urban lot), but reading this book will give you a depth of understanding and greater appreciation of the fascinating plants you are growing for your salads and stir-fry recipes.
Why write a book like this? Navazio sums this up in his introduction: "My hope is that I have been able to deliver this information in a simple enough fashion to be easily understood and used, while at the same time remaining scientifically based...I'll know that I've been successful in this when I see a dog-eared, dusty, and smudged copy of this book on the front seat of a seed farmer's pickup truck."
Excerpted from the Summer 2016 Arboretum Bulletin.
Link to this review (permalink)
Reviewed by: Brian Thompson on 2016-10-01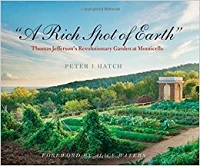 Peter Hatch has been the Director of Gardens and Grounds at Monticello, near Charlottesville, Virginia, since 1977. I find his recently (2012) published "A Rich Spot of Earth" to be the most engaging of the Miller Library's several books on Thomas Jefferson's famous home.
Hatch is a skillful writer, blending much of Jefferson's own words into his narrative. The narrative tells how the former President was enthralled with all matters of gardening, especially of food crops throughout his life, despite his many public duties. He was also deeply involved with the fabric of his local community and region, and seemed to value friendships that did not overlap with his professional career.
Not surprisingly, I found the chapter on gardening books in the presidential library especially interesting. I think all gardeners will find something of value in the discussions on Jefferson's approaches to garden layout, planting methods, soil amending, staking, seed saving, and dealing with pests and weeds – you'll easily forget that your mentor lived roughly 200 years ago.
The second half of the book is subtitled "A Catalog of Selected Monticello Vegetables." Similar to many how-to books on vegetable gardening, this is an evaluation of the many favorite crops grown on the estate, broadly divided by the edible portion of each, including fruits, roots, and leaves. Most of the selections are familiar, but some were used in different ways than we do now, and some the modern reader may find a bit odd.
For example, nasturtiums were grown primarily for their seeds, while the flowers were only a garnish. Jefferson had a passion for sesame (Sesamum indicum), and experimented unsuccessfully with different pressing techniques to produce oil.
Finally, every gardener has his or her favorites, and "Jefferson fussed over his garden asparagus far more than any other vegetable." It was only grown in "in carefully amended beds because this long-lived perennial…was a major investment." I think most gardeners can relate to this type of obsession.
Excerpted from the Fall 2016 Arboretum Bulletin.
Link to this review (permalink)
Reviewed by: Brian Thompson on 2017-04-01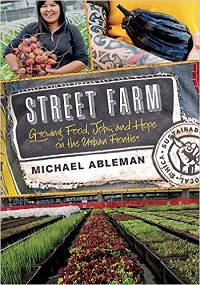 Street Farm is not a gardening book, but I'm reviewing it because it has a powerful message of the benefits of gardening, or – more accurately – urban farming, especially for those who do not have much else to bring hope and well-being to their lives. Author Michael Ableman is the co-founder of Sole Food Street Farms, a charitable organization that includes four farms on abandoned lots in downtown Vancouver, B. C. This book is the story of that organization and the people it has hired to become the urban farmers.
The neighborhoods around these farms are not tourist attractions. The author points out that "…while Vancouver's prosperity is celebrated, its concentration of poverty and raw desperation endures in the midst of the polished and the preened."
There are losses on these farms, both of the produce and of the humans who tend the crops, but overall this is a book of hope. Ableman is very clear that this endeavor is not a panacea for the challenges of poverty, mental health diseases, or addictions. He also recognizes his is a position of privilege by always having "…had a place to live and food to eat, and the color of my skin is not black or brown."
Besides the human stories, all gardeners will relate to the challenges of growing plants in less than ideal circumstances, including outsmarting pests, in this case a sophisticated rat population that only chooses the best vegetables. No less interesting is the harvesting and marketing of crops to the more than 30 restaurants and five farmers markets that Sole Food supplies, plus its CSA (Community Supported Agriculture) shares and donations of over $20,000/year to community kitchens.
Excerpted from the Spring 2017 Arboretum Bulletin.
Link to this review (permalink)
Reviewed by: Brian Thompson on 2017-10-01
"Florets Farm's Cut Flower Garden" is an excellent handbook to creating and running a very successful cut flower business on the model of Floret Farm in Washington's Skagit Valley. However, if your goals are not quite so ambitious, there is still a lot of advice here for creating a cutting patch in your own garden and using the bounty for filling vases and many other purposes.
Primary author Erin Benzakein speaks from a lot of experience. Her farm began as a big patch of sweet peas, grown in memory of her beloved, gardening great-grandmother. Friends requested cut flowers. The tears and emotional memories evoked in one recipient was an epiphany for Benzakein. "In that moment, I realized that I'd found my calling. Witnessing the profound impact that a simple bouquet could have on a person, I knew I had discovered something worth pursuing."
While the introduction prepares the reader for both the cultural and business side of cut flowers, the core of the book is the author's choices of favorites and her hard-earned experience with each. And not just flowers. She encourages growing at least as many plants for their leaves, seed pods, colorful branches, and other features as supporting cast – or stars in their own right – for your arrangements. She also encourages the use of grasses, shrubs, trees, and even vegetables in your cutting plans; a spray of tomatoes – in various stages of ripeness – has considerable ornamental value.
To this end, there is an introduction to all the equipment familiar to a florist. Many of these are useful to the home arranger for various projects involving both fresh and dried flowers. The most striking photo (and there are many) in the book is of the author wearing a spring crown of ranunculus, viburnum, muscari, and campanula!
Excerpted from the Fall 2017 Arboretum Bulletin.
Link to this review (permalink)
Reviewed by: Brian Thompson on 2018-01-01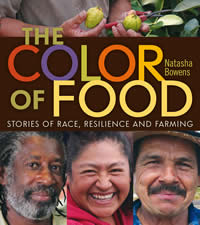 In describing her book, "The Color of Food," Natasha Bowens explains, "I never would have imagined that my desire to dig in the dirt would lead me here, digging instead into the stories of farmers of color across America – Black, Latina, Native, and Asian farmer and food activists." Initially, her interest in improving food and agriculture systems led her to working on organic farms, but often as the only "brown person" there. Through her blog (Brown.Girl.Farming), she discovers there are others like her, and decides their stories need telling.
At the same time, she was learning about her heritage, including the uneasy discovery that her white mother's ancestors owned her black father's ancestors. "I'm literally the product of ownership and oppression reuniting, as if to rewrite the story."
Her trip takes her across the country. For the purposes of this review, I'll concentrate on stories she found amongst farmers on the West Coast. These include Menkir Tamrat, who came to the United States from Ethiopia for college in the 1970s and now lives in Fremont, California. Missing the special ingredients of the favorite dishes of his native land, he recognized that he would need to grow his own. This is what he does, but also enjoys preparing traditional dishes and some of the intermediate ingredients to sell to Ethiopian markets and restaurants.
In the Skagit Valley of Washington, Nelida Martinez is a Mixteca native – from the state of Oaxaca in Mexico – who now has her own organic farm focusing on raspberries, blackberries, and various vegetables. She made this bold move after her son sickened with leukemia, possibly from exposure to pesticides at the conventional farm where his mother once worked. She describes the experience of Latino farmworkers as "a lot of humiliation for us, and many of us never think about having our own farm because we feel degraded by the work." Now, she is very pleased to not be working "for anyone else!"
Valerie Segrest is not a farmer in the traditional sense, but rather an advocate for the foraging traditions of her people, the Muckleshoot tribe based in Auburn, Washington. This includes cooking and eating traditional foods in season, a practice that has required compromises because of dams, pollution, or what she calls "European land management styles." While she appreciates the role of conservation, she argues that the foraging and harvesting of native peoples ensured "a balance with nature where you're working together and not having dominion over that space. Even as foragers, we use harvesting techniques that make it look like we've never even been there while also actually benefitting the plant."
Excerpted from the Winter 2018 Arboretum Bulletin.
Link to this review (permalink)
Reviewed by: Brian Thompson on 2018-04-01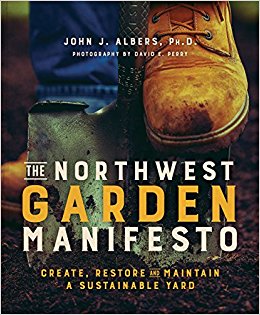 "The Northwest Garden Manifesto" by John Albers is a new book for our region. While the title may conjure up images of gardeners marching rake-to-rake for their causes, this instead is a very solid and comprehensive gardening book that keeps closely in mind the bigger ecosystem surrounding any private garden. Divided into three broad sections, the book asks you to assess what you have, then make changes that are sustainable (for your garden) and healthful (for you), and finally – for all your actions – think outside the property line.
The author is very good at presenting new approaches to regular garden chores. While these may seem mundane, they fit very well into the overarching structure and message of the book. A handy summary checklist at the end of each chapter helps you track this bigger picture. Many of the examples are from his own four-acre garden on the edge of Bremerton, well-captured by the photography of David Perry.
The selection of recommended plants includes native and non-natives as Albers emphasizes that in developed sites, many of the conditions that help natives thrive have been destroyed. Other recommendations include many food-producing plants, everything from annual vegetables to fruit trees. He also advises engineering your lawn – if you must have one – to be either a green space with low demands on resources, or a self-sustaining meadow.
This book's primary audience is urban dwellers, but that is most of us. "With more than half of humankind living in cities, our first steps must be developing sustainably and restoring urban biodiversity." So perhaps manifesto is an accurate description of Albers' goals. I recommend you read his book and make your own decisions.
Excerpted from the Spring 2018 Arboretum Bulletin.
Link to this review (permalink)
Reviewed by: Brian Thompson on 2018-04-01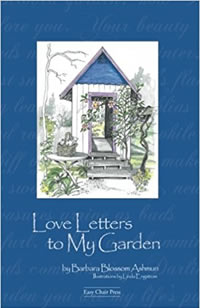 It is no secret that Barbara Blossom Ashmun is an avid gardener. Besides having a floriferous name, there are the intimate titles of her memoirs: "Married to My Garden" (2003) and "Love Letters to My Garden" (2017). This Portland garden designer and writer did not grow up as a gardener, but instead found her calling well into adulthood. A divorce and the desire to leave the world of a social worker helped this process.
This may be why she writes with the conviction of a convert. "No one ever died from having too many plants. And never allow partners, spouses, friends, or curmudgeons discourage you from experimenting with new plants. If anyone grills you about how many plants you bought, don't take the bait. Give them a Mona Lisa smile and change the subject."
The author has a knack for writing for both the experienced and novice gardener. She uses a light hand with Latin names, relying on her non-gardening husband's feedback to keep these in check. But that doesn't mean she resists the latest new cultivar from cutting edge nurseries. She understands plant lust very well, but she also found an antidote to that in the Kleingarten movement in Germany. Gardeners whose faces "shone with happiness" cultivate these small spaces with the most common of flowers and vegetables.
Ashmun concludes "Love Letters" with a poignant story (also found in the Winter 2013 issue of "Pacific Horticulture") about the loss of a giant sweet gum that dominated her back yard. Over the short period of time it took to cut down the failing tree, her yard went from shady to sunny. It was a shock. However, this gardener, now in her seventies, had the necessary resilience to create a new patio in the space the sweet gum had occupied, with more space for – yes! – more plants.
Excerpted from the Spring 2018 Arboretum Bulletin.
Link to this review (permalink)
Reviewed by: Brian Thompson on 2019-01-01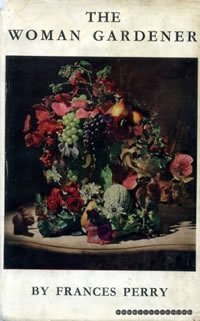 Frances Perry (1907-1993) perceived a similar lack of horticultural information for women more than a century after Jane Webb Loudon. As a horticultural lecturer, horticultural advisor (to her county council), and gardening correspondent in England, she noted an ongoing demographic change: more and more women were attending her presentations or writing her letters. Her colleagues, both men and women, had also observed this change.
To address this need, she published "The Woman Gardener" (1955). In addition to general gardening advice, Perry chose topics she thought would have special interest for women. For example, an early chapter is titled "Salads and Quick Return Vegetables" and recognizes that "most housewives will agree that the first requirement of any salad ingredient is that it should be fresh." Later chapters present miniature gardens in various forms, houseplants, and tips on flower arranging and keeping cut flowers fresh – subjects not typically addressed in other general gardening books of the time. She broke down other barriers of the male hierarchy of British horticulture by becoming the first woman council member of the Royal Horticultural Society in 1968 and, a decade later, vice president of that organization.
Excerpted from the Arboretum Bulletin
Link to this review (permalink)
Reviewed by: Tracy Mehlin on 2021-07-22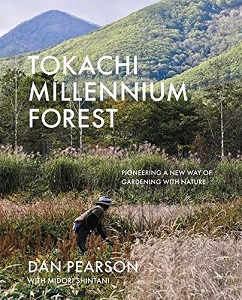 I have always wanted to travel to Japan to experience the bustling energy of Tokyo and the serenity of ancient Buddhist temples in Kyoto. Now after reading about Tokachi Millennium Forest I know I have to include the northern island of Hokkaido on my itinerary. Why did the owner of a private parcel comprised of second growth forest and former agricultural fields hire a British garden designer? Because the lofty goal of creating a carbon sequestering ecological park that would be sustainable for 1,000 years, while also charming urban Japanese visitors required cross-cultural collaboration. Designer and author Dan Pearson's expertise is creating ecologically sensitive, naturalistic landscapes. He worked with Japanese landscape architect Fumiaki Takano to fulfill the vision of site owner and newspaper magnate Mitsushige Hayashi starting in 2000. In a nutshell, Hayashi's vision is to rekindle the visitors' connection to nature in order to instill an ethic of environmental responsibility and love for the mountains and forests. Head gardener and co-author Midori Shintani – profiled in Jennifer Jewell's The Earth in Her Hands – joined the team in 2008.
The book is elegantly designed with beautiful color photographs. The opening chapters relay how Pearson first traveled to Japan and how he was introduced to the project. It includes a brief history of the island, mountains and forest, and the reason behind Tokachi Millennium Forest. Pearson writes the main body of text while Shintani contributes essays on Japanese culture and how the culture is manifest at Tokachi. Pearson conveys high level design concepts such as sense of place and ecology, purpose and mission. He also includes very specific horticultural details such as how the native, yet aggressive Sasa bamboo is cut back in the forest every spring in order to give other native plants a chance to regenerate.
The following chapters describe each of the park's main regions, such as the Forest or the Earth Garden with its waves of grassy, sculpted landforms that relate to the looming mountains. The Productive Garden contains vegetables, herbs, and fruits for the café as well as roses to delight visitors. Native flowers mix with carefully selected cold hardy perennials from temperate regions of the world in the Meadow Garden. Pearson and Shintani continue to meet for a week every year to discuss and plan maintenance strategies and required edits. The editing process means perennials that are too dominant either get deadheaded so seeds don't spread or potentially removed entirely, while less vigorous or short-lived plants are encouraged to reseed or are propagated and replanted the following spring. For example, Thermopsis lupinoides was edited out while Verbascum 'Christo's Yellow Lightning' was added later. I question how the complex, perennial-filled Meadow Garden will be sustainable for 1,000 years given the work required to keep it looking presentable through the short growing season, but I am eager to see it in person. It must be magnificent to walk through the flower-filled Meadow with the mountains framing the scene. The book concludes with a complete list of plants used in the Meadow Garden with notes on which ones failed to thrive or were removed for being too dominant.
Published in The Leaflet, Volume 8, Issue 8, August 2021.
---
Didn't find an answer to your question? Ask us directly!