June 7, 2022
Student Honored in Husky 100 during 2022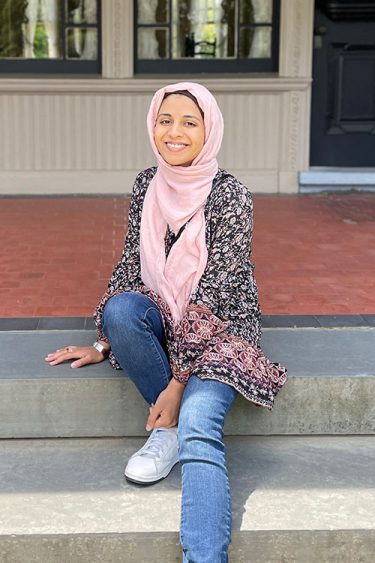 The University of Washington Health Promotion Research Center (UW HPRC) is excited to share that one of the students supporting our work has been named to the Husky 100 — Sheharbano Jafry.
Each year, UW recognizes 100 undergraduate and graduate students who are making the most of their time at the university. Husky 100 students actively connect what happens inside and outside the classroom and apply what they learn to make a difference on campus, in their communities, and for the future.
Jafry, a third-year undergraduate, has been supporting the information navigator blog as part of the Partnership for Vaccine Confidence project. While she is pursuing degrees in biochemistry and English, she is also minoring in global health. Eventually, she wants to pursue a career in medicine, which is closely tied to public health and community engagement.
"In the future, I hope to become an educator and medical doctor so I can combine tools like education and medicine to continue my work of empowering youth," she said.
She also volunteers at her local Sea Mar Community Health Center where she has supported COVID-19 testing and vaccine drives. "I am also strongly passionate about public health and how to improve the health of underserved communities," she said. "I think the vaccine confidence project is a great project to be a part of since I have extensive community experience in this area."
Outside of public health and medicine, Jafry is also passionate about advocacy and policy work. She serves as on the Associated Students of the University of Washington (ASUW) an academic and administrative affairs chair with the student senate and an intern with the ASUW Office of Student Health Relations.
More About the Husky 100
In honor of the Husky 100 students' contributions to the University of Washington, each member is eligible to receive benefits and participate in a range of activities and opportunities offered by on- and off-campus partners. Members of the Husky 100 will:
Receive individual profiles on the Husky 100 website to highlight their student experiences, communities, and priorities.
Receive one year of free membership with the UW Alumni Association upon graduation.
Have exclusive opportunities to expand their personal and professional networks with UW students, alumni, faculty, staff, and business leaders in their field.
Tags:
COVID-19
,
PaVC
,
Sheharbano Jafry