Health Sciences Center Minority Students Program
Stipends for Training Aspiring Researchers (STAR)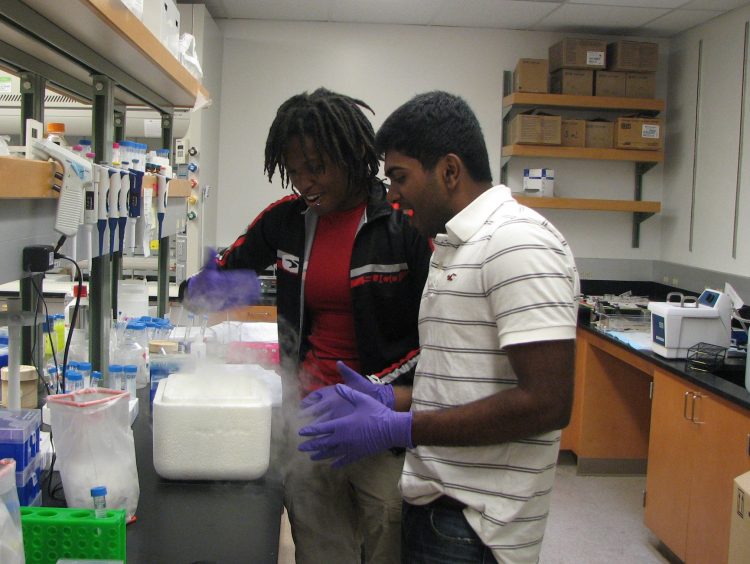 The Stipends for Training Aspiring Researchers (STAR) Program is a paid summer research experience designed to encourage and support the research training of underrepresented minority and disadvantaged undergraduate and graduate students in the health, biomedical, and behavioral sciences. Students are provided first-hand, quality experiences in laboratories of established researchers, gain the confidence and academic exposure which will allow them to successfully enter PHD level and professional programs of study, and become part of a network which includes a long-term "mentored" relationship with University of Washington advisors, researchers, professors, staff, and support programs for students of color.
*The program is funded by a grant from the National Heart, Lung, and Blood Institutes (NHLBI). NHLBI and the coordinators of the UW STAR Program strongly encourage students from underrepresented minority groups (i.e., African American, American Indian/Alaska Native, Asian/Pacific Islander, and Hispanic/Mexican American) to apply.
The 2022 STAR Application is now open! The application deadline is February 4, 2022.
*Due to increased security measures, as part of the application process you must sign in with a Google account to upload the required documentation. We apologize for any inconvenience this may cause. 
2022 PROGRAM
When
STAR is a biomedical research internship experience during the summer.
*Semester system/Out-of-state students must attend for 8 weeks from from June 20, 2022-August 12, 2022. On-campus housing is not guaranteed. A list of possible summer apartments can be obtained upon request.
*Due to COVID-19 restrictions, out of state applicants may not be eligible for STAR summer 2022. The program may be virtual. This will not be determined until after the STAR program deadline.
UW/Quarter system school students must attend for 10 weeks, from June 20, 2022 to August 26, 2022.
All students are expected to present their research at university health science poster sessions. Tentative poster session dates are August 9, 2022 & August 17, 2022.
Eligibility
US Citizen or Permanent Resident
For students with junior class standing and above, prior biomedical laboratory experience is important in being considered for the program. Placement will be based on individual background, area of interest, and participating mentors
Program Participants must be from groups considered underrepresented in the biomedical sciences.
Academic Requirements
Participants must have completed at least one college level mathematics and one college level science series (Freshman level); with a minimum 3.0 GPA in all math and science series' coursework.
Participants must be Freshman through Senior undergraduate students; 1st year professional program students; or entering UW biomedical graduate students.
Each participant will receive monetary compensation of $16.69 per hour. Written information regarding compensation will be provided upon acceptance.