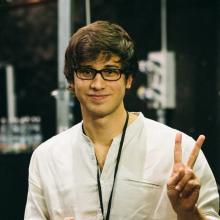 Jason is a joint student with the Carothers lab working on engineering metabolic networks.
Publications:
Lentini, R.; Martín, N. Y.; Forlin, M.; Belmonte, L.; Fontana, J.; Cornella, M.; Martini, L.; Tamburini, S.; Bentley, W. E.; Jousson, O.; and Mansy, S.S.. Two-Way Chemical Communication between Artificial and Natural Cells. ACS Cent. Sci. 2017.
http://dx.doi.org/10.1021/acscentsci.6b00330.