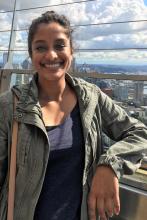 Hometown
Anaheim, CA
Program
Epidemiology, MPH
Research Interest 
birth outcomes
---
What inspired you to pursue a career in maternal and child health?
I was inspired at a young age by my aunt, who is an OB/Gyn in India. I always wanted to visit her at work whenever we were in India and became interested in studying the particular set of barriers that women face when trying to achieve better health outcomes. In college, I was a research intern on a project looking at maternal and child health outcomes across the life course. Working on this project reignited that spark that I had as a kid when I would visit my aunt. I realized that I wanted to be a part of the community that is working to better maternal and child health outcomes.
What sparked your interest in public health?
I have always been interested in how different fields can work together to solve issues that our society faces. Public health gave me the opportunity to look at complex health issues on a macro level and consider how we could affect these problems not just through individual medical care, but also by considering other factors in a person's life that could contribute to better health.
Where do you work and what do you do?
I work at Harborview Injury Prevention and Research Center as a Project Coordinator for the iHeal (Injury-related Health Equity Across the Lifespan) symposium.
What is the most interesting project you've worked on in the MCH Program so far?
In one of our Epi methods classes, we are working on a project where we analyze Washington State Birth Certificate data. It has been really interesting watching a project go from its initial stages of data cleaning and analysis to a scholarly paper as the end result.
You were one of the recipients of the MCHB's Graduate Student Epidemiology Program Award and you had the chance to complete your practicum in Hawaii, analyzing the influence of substance abuse and chronic disease on birth outcomes.  What was that like?
I applied for that practicum because I wanted to use the data analysis and coding skills we learned in the first year of the MPH program.  It was a great opportunity for me to see how a department of health functions. I also got to attend a couple of meetings across divisions and branches in the department and saw how the work that the Epidemiologists are doing gets translated into action. I really enjoyed my experience and recommend GSEP to any student considering it. If you do decide to apply to GSEP, I think it helps to be clear about the public health skill set that you gained in your first year and how that would be helpful in the internship. So, whether you took a class on program evaluation or on using programs such as SAS and Stata, being able to explain how the tools that you have will be useful in the internship will make you a competitive candidate. 
What do you like about living in Seattle?
Seattle has a really cool culture about it. When I first moved to Seattle, I remember taking a walk from campus to Fremont and coming across The Troll. The next day, I went to Capitol Hill and saw the Dancers' Steps on the sidewalk and thought it was so cool that you could learn a little ballroom dance as you walk down the street. There are all these sweet little pieces or points of interest throughout the city that make it so much fun to explore. I also love how close the city is to the mountains and to the water.
What do you do in your free time?
I love to be outdoors whenever I get the chance. I have really enjoyed hiking in the Pacific Northwest and exploring all of the beautiful trails. I also love to swim and run.