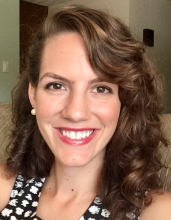 Hometown
Reading, PA
Program
Health Services, MPH
Research Interests
Family planning and reproductive justice, health equity, environmental health, and adolescent health
---
What inspired you to pursue a career in maternal and child health?
In college, I had an opportunity to intern with an organization called Project Gaia, Inc (PGI). PGI works to replace wood-burning fuel and stoves, with clean-burning ethanol in the developing world. In low-income countries, cooking over wood fires indoors is very common. The smoke from these fires has a negative health impact, leading to conditions such as asthma and COPD, mainly for women and children, who are often in charge of cooking. While I was interning with PGI I got to pilot-test an ethanol stove in rural Vietnam, and spent time cooking with women, comparing wood and ethanol stoves. The experience helped me to realize how factors like poverty and the environment impact the health of mothers, and the future for children. I saw MCH as a way to make a difference.
What sparked your interest in public health?
I was an undergrad major in environmental studies and globalization studies, and was a women's studies minor. I think to me, public health seemed to be at the intersection of all of those things. The environment, where we live in the world, and the social structures around us, all influence our health. And on the flip side, working to improve health at a population level has the potential to improve our environment, inspire social justice, and spark global partnerships--all things I hope to encourage through my career.
Where do you work and what do you do?
I'm currently working as a research assistant for Dr. Anne Turner on the SOARING (Studying Older Adults and Researching their Information Needs and Goals) Study. The project is about older adults and the ways that they manage information related to their health. Its goal is to help inform the design of health-related technology, so that it is better suited to the needs of older adults. This topic is different from work I have done in the past, but I love it. I am realizing the ways that older adults are overlooked in health care (especially when it comes to health care technology) even though they have some of the greatest health care needs.
What is the most interesting project you've worked on in the MCH Program so far?
It's hard to say—I think the MCH core classes have been some of my favorites. In our MCH epidemiology class, I had a chance to think about health information technology in the MCH realm, and did a literature review about whether text messaging programs impacted people's use of contraception. I would love to continue thinking about and studying the ways that technology can support family planning.
Last year you were chosen to be one of the ten Maternal and Child Health Bureau (MCHB) Trainee Ambassadors in the country. What has that experience been like?
I was certainly honored to be selected, and have really enjoyed connecting with MCH trainees in different disciplines and programs (adolescent health, pediatric pulmonary doctors, nutritionists, etc.). We meet monthly over the phone, and are organizing a lot of virtual programs to support trainees—like a new online resource to connect with MCH mentors. I enjoyed the Trainee Ambassador Group so much that I'm staying for another year, and will help to plan the in person MCHB Making Lifelong Connections conference. It will be fun to put faces to the voices I have been hearing on the phone, and meet other MCH trainees.
You received the MCHB Graduate Student Epidemiology Program Award to complete your practicum with the Northwest Portland Indian Health Board (NPAIHB) this summer. What was that like?
My project was to develop an MCH guiding framework for NPAIHB. I interviewed leaders and MCH professionals from the 43 federally recognized tribes in the Northwest, and from other organizations focused on MCH for American Indians and Alaska Natives. I worked collaboratively to summarize the interviews, and come up with some recommendations and next steps for NPAIHB.
I learned so much this summer...one thing I will carry with me throughout my career is an understanding of the need to ask questions—about how data are reported, how systems are structured, and what voices are shaping the conversation. For example, American Indian and Alaska Native people are often excluded from data analysis because of issues with small sample sizes, and misclassification of American Indian/Alaska Native identity in surveys. This drives funding and impacts opportunities and lives. It's an issue that NPAIHB is working to address, but one that I think needs more attention.
What do you like about living in Seattle?
I am a big coffee drinker, so I love Seattle's coffee culture. I also think it's fun to be so close to the water and the mountains. I love hiking and being outdoors, and it's nice to have great hikes that aren't too far away. I also love the little parks in the city with amazing views—Gasworks, Kerry Park, Green Lake--there's never a shortage of spots to enjoy Seattle's scenery.
What do you do in your free time?
I really enjoy running, and exploring new places while I'm out on runs. There are some neat running paths on campus and behind the IMA. I will never say no to ice cream with friends, and have taste-tested most of Seattle's famous ice cream spots. Sweet Alchemy on the Ave is definitely a favorite. ​