---
Research Facilities
The MR Research Laboratory is situated in the Health Sciences Building adjacent to the University of Washington Medical Center. The laboratory currently houses imaging facilities for three different MR systems that are 100% dedicated to basic science and medical imaging research. In addition, there are wet labs for conducting experiments, an image viewing room equipped with computers and picture archiving and communications system (PACS) workstations, a physics laboratory for radiofrequency coil design, an electronics laboratory for component fabrication, a software development laboratory for image analysis, and office space for faculty, support scientists, staff and students.
MR Imaging Systems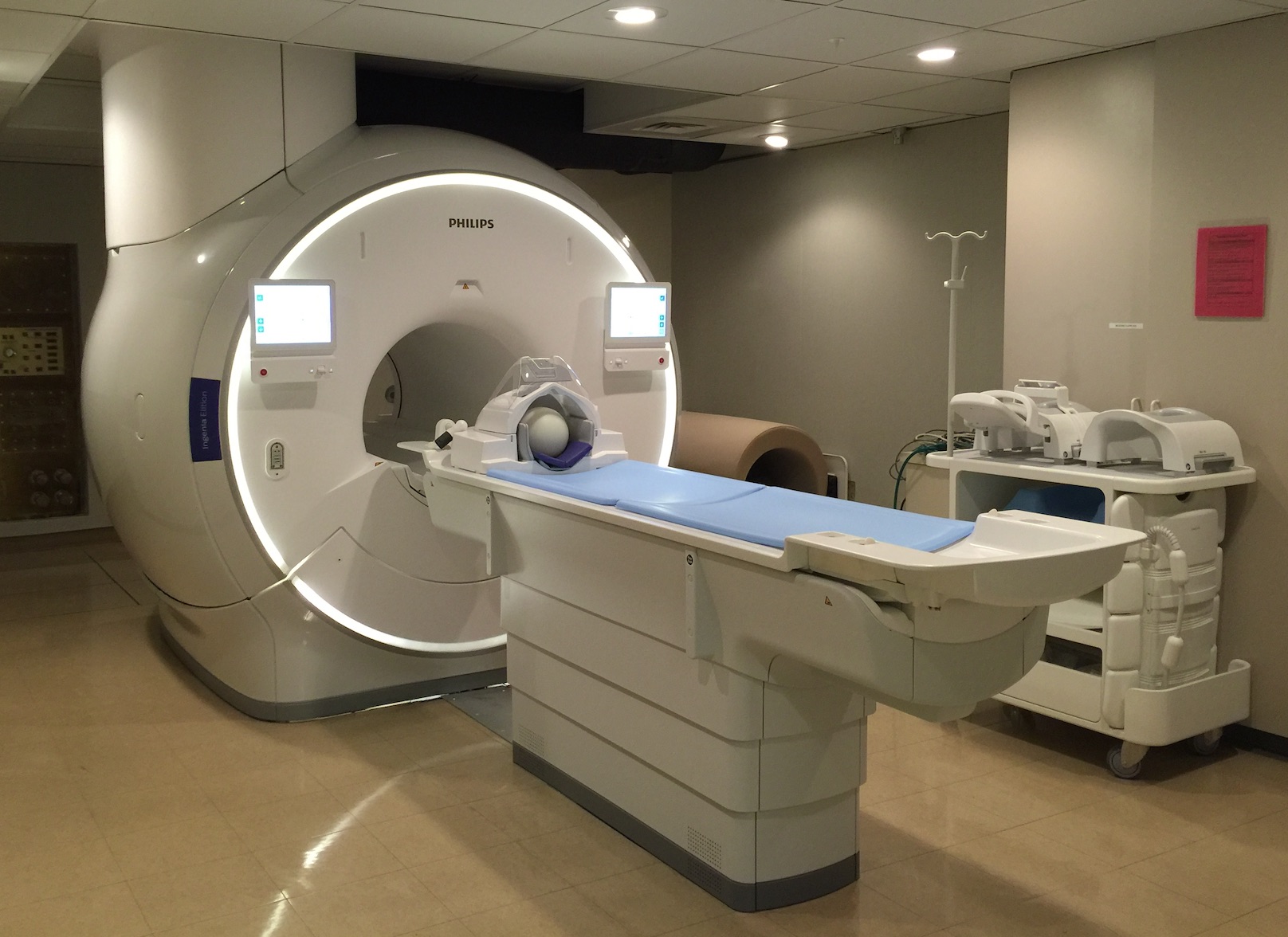 The whole-body
3T Philips Achieva Magnetic Resonance Imaging System
is equipped with quazar dual switched gradient ampufier that support high resolution and rapid dynamic functional imaging research. This MR scanner is equipped for ultra-fast anatomic, diffusion, spectroscopic, and functional MR imaging.
The Bruker 4.7T magnet with a 30cm bore is equipped with high-speed 100mT/m gradients and a Varian spectrometer console. This system is capable of high-resolution imaging and broadband spectroscopy. It supports research in the areas of human muscle energetics, perfusion, molecular imaging and multinuclear spectroscopy.
The 7T vertical magnet with a 7.5cm bore is fitted with custom gradients and RF hardware designed and built in the MR Research Laboratory. Software and pulse sequences developed on this system are readily transportable to the 4.7T scanner. This system is used primarily for multinuclear spectroscopy studies and microscopic MR imaging.

top
MR Scanner Simulator
The MR scanner simulator is designed to mimic the experience of a scanning session on the 3T scanner. This scanner has the exact geometrical bore configuration as the actual scanner and is used to acquaint patients with the simulated experience of the scanner prior to an MRI scan. The system is complete with a simulated head coil, audio/video projection system and synthesized sounds that duplicate the noise produced by actual MR imaging sequences. The MR simulator has proven especially valuable for training both children and adults in the performance of complex tasks used for functional MR brain Imaging (fMRI) experiments.

top
Stimulus Delivery Facilities
The MR Research Laboratory has a fmri stimulus delivery package that from MRA Inc. It includes video, audio and all identical software and responses button box.
top
Electronics / RF Coil Laboratory
The Electronics/RF Coil Laboratory is a site for the development of novel and custom radiofrequency (RF) coils for the UW research and clinical MR scanners. Scientists in this laboratory also design custom electronic devices for use in the MR magnet environment such as push buttons for response recording and video presentation devices.
Data Analysis Workstations
The MR Research Laboratory computer resources include a variety of Linux, Macintosh, Sun, SGI and PC workstations. These workstations offer a broad array of analysis software including MEDx, Matlab, SPM, FSL, Brain Voyager, Measure, and Adobe Photoshop as well as custom image analysis software developed in the laboratory.
Image reading room
Besides the PACS workstations, the laboratory is also equipped with Image Storage and Retreival system in a reading room. Specialized programs have been developed and are available to facilitate the transfer of data from laboratory computers to individual scientistís computers throughout the UW system.

---
Subject Facilities
The MR Research Lab is designed to perform research studies on out-patients and is equipped with a reception area and waiting, interview, recovery, and changing rooms. All subjects must be enrolled in research protocols approved by the institution's IRB and screened for contraindications both at enrollment and immediately prior to the study. Signed informed consent is mandatory. Physiological and visual monitoring will be in place during the study as is normal clinical practice. Personnel (registered nurse, physician) and provisions for medical supplies and support (code cart, respiratory suction) are available in the immediate location of the MR rooms in the event of an emergency.
top
Subjects and family members are asked to wait in the waiting room. The large, modern climate-controlled waiting room is equipped with comfortable chairs and reading material.
top
A practice room exists for preparing study subjects for the fMRI portion of their scan. Use of the practice rooms is on a first-come first-served basis, for up to one hour time periods during the Lab's open hours.